Hard Rock Hotel Bali Review
As a seasoned American traveler, I've seen my fair share of hotels around the globe, but nothing quite compares to the Hard Rock Hotel in Bali.
From the moment I walked in, I was transported into a rock 'n' roll paradise. Here's my breakdown of this head-banging haven.
There are many Hard Rock hotels around the world, of which I've been to a half dozen. But it wasn't until this one in Bali, Indonesia that inspired me to write a review. Not all Hard Rocks are created equal.
The Venue: 🎸🎸🎸🎸🎸
The venue is nothing short of spectacular, nestled along the famous Kuta Beach. With its rock-themed decor, memorabilia, and non-stop tunes, I felt like I was attending a world-class concert every day. Even the massively massive theme park pool area is designed like a stage, ready to host the wildest pool party you've ever seen. Slides and rides for the kids and adults alike, you'll find it difficult to take the few steps it takes to leave it for the beach just outside the Hard Rock.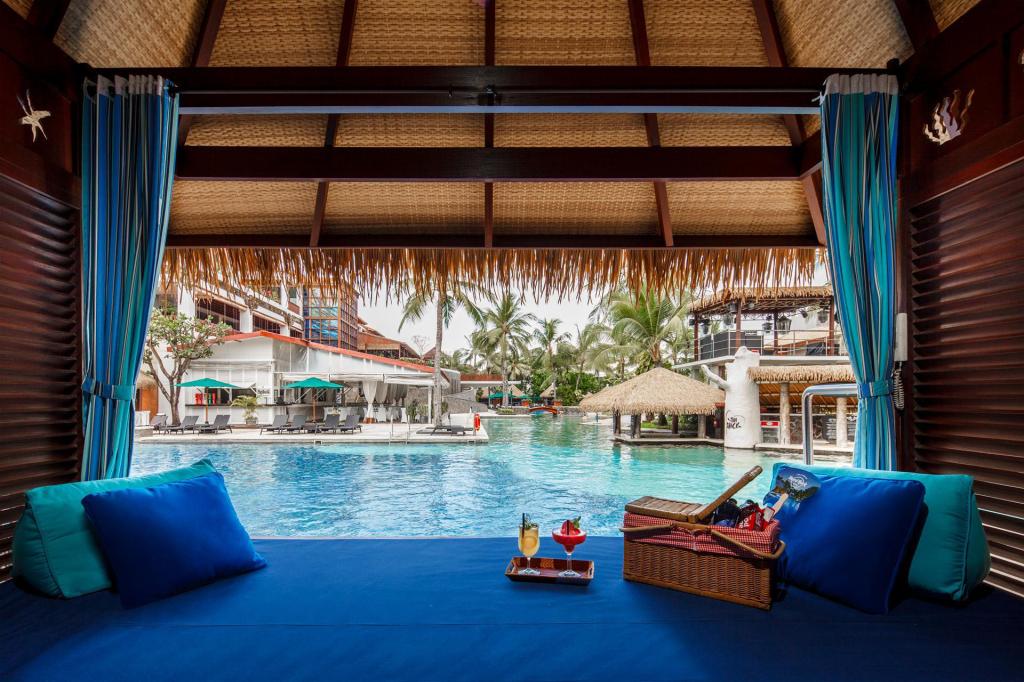 The Room: 🎸🎸🎸🎸
My Deluxe room was spacious, comfy, and totally rockin'. The bed was like sleeping on a cloud, and the mini-bar was stocked with everything a roadie could need. Everything was flawlessly clean at arrival almost on par with a 5 star hotel. Plus, the balcony had a killer view of the pool and tropical gardens. The only downside was a slight noise from the nearby nightlife, but hey, we're here to rock… of which we eventually attended.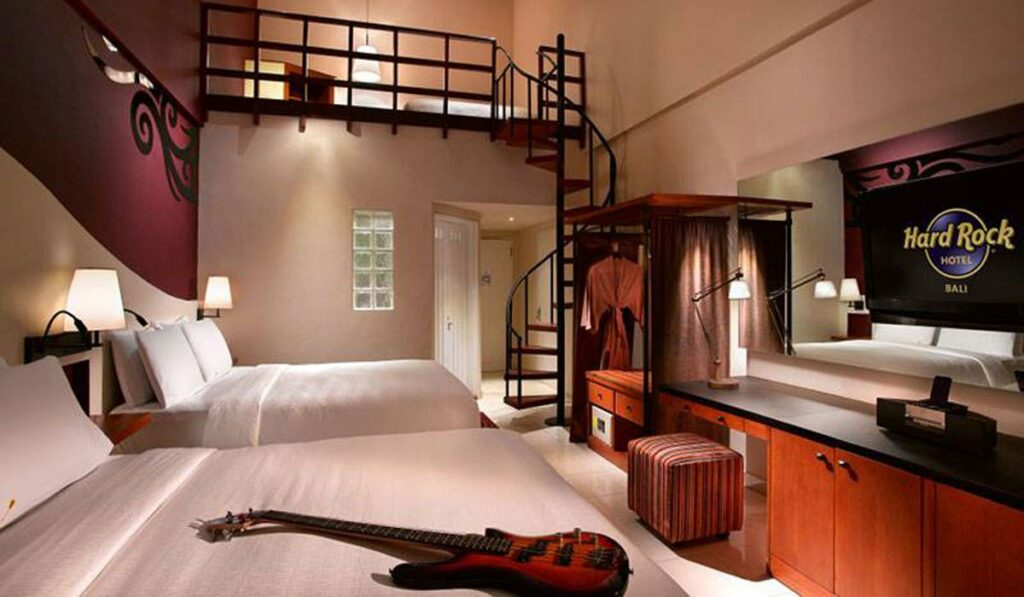 The Service: 🎸🎸🎸🎸🎸
The staff at Hard Rock Hotel Bali are the true MVPs. They were always friendly, helpful, and ready to assist with any requests, like securing tickets to local attractions or recommending the best local eats. I was treated like a rock star from check-in to check-out.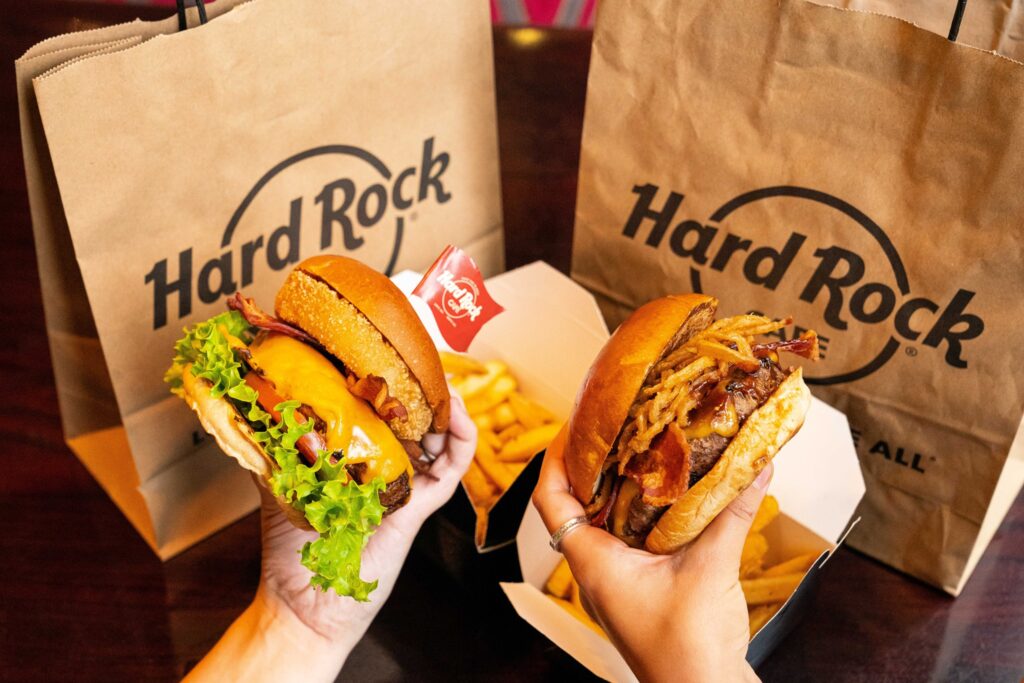 The Food: 🎸🎸🎸🎸
The on-site restaurants offer a delectable mix of international cuisine, and I found myself chowing down on everything from American-style burgers to Indonesian favorites. The breakfast buffet was a highlight, providing an array of options to fuel up for a day of rockin' adventures.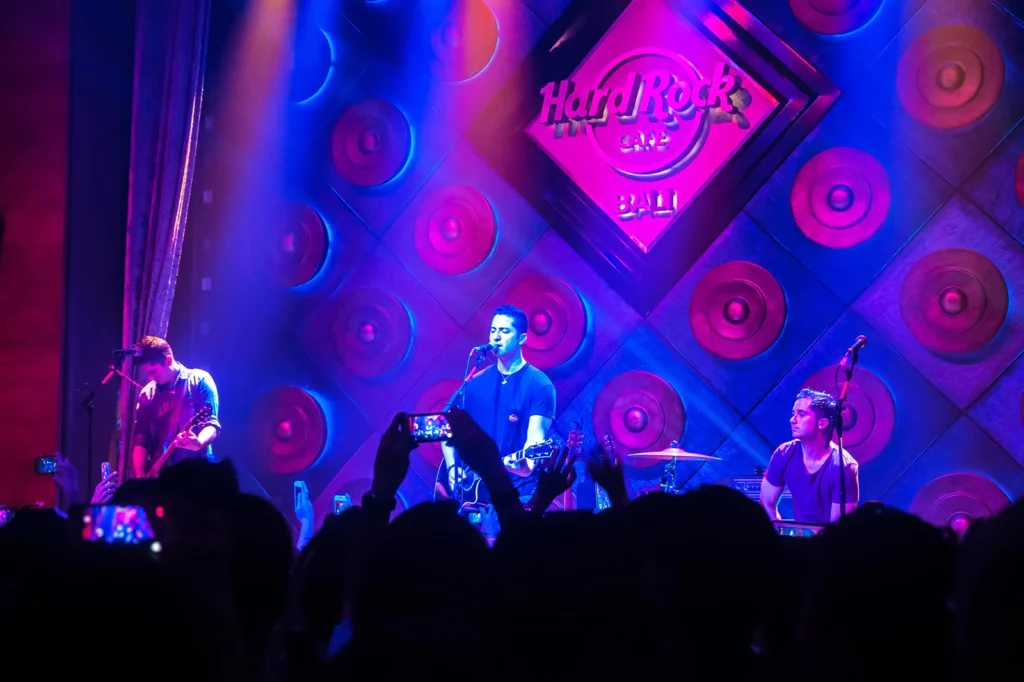 The Entertainment: 🎸🎸🎸🎸🎸
Hard Rock Hotel Bali knows how to put on a show. Live bands, DJs, and poolside activities kept the energy high and the good times rolling – it's not called "Hard Rock" for nothing. I even tried my hand at some traditional Balinese dance lessons – let's just say I'll stick to air guitar.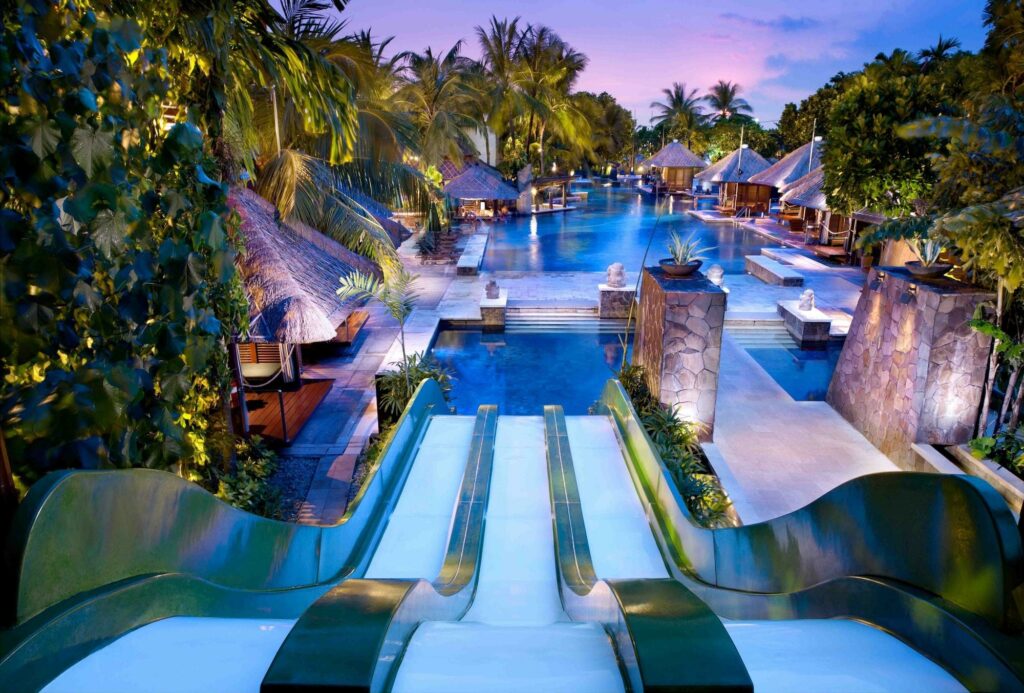 The Amenities: 🎸🎸🎸🎸
The amenities are top-notch, with a full-service spa, fitness center, and the legendary Roxity Kids Club to keep the little rockers entertained. The pool is the centerpiece, complete with a swim-up bar, sandy beach area, and plenty of loungers to soak up the sun. The gym was spectacular but only got a single session in as we decided to get our workout in the ridiculous pool. Despite the hotel being in the busiest part of Bali, you'll find it hard to leave the Hard Rock's property as there's so much to do.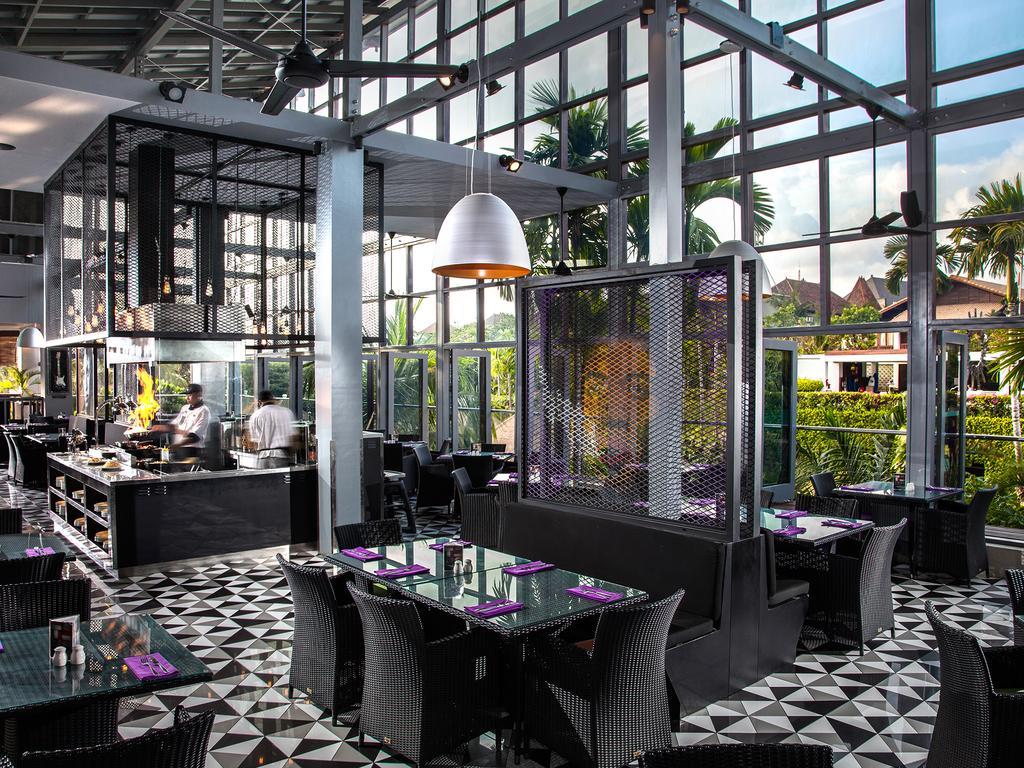 Cost: 🎸🎸🎸🎸
The cost is a bit on the higher side, but you're definitely paying for the unique experience and prime location. It's worth splurging a bit for this rockin' retreat. However, being in Indonesia, it was less expensive from most other Hard Rocks I've stayed out. For example, the ones in London and Las Vegas were more expensive by a large margin – even though you get less for your money compared to Bali's Hard Rock.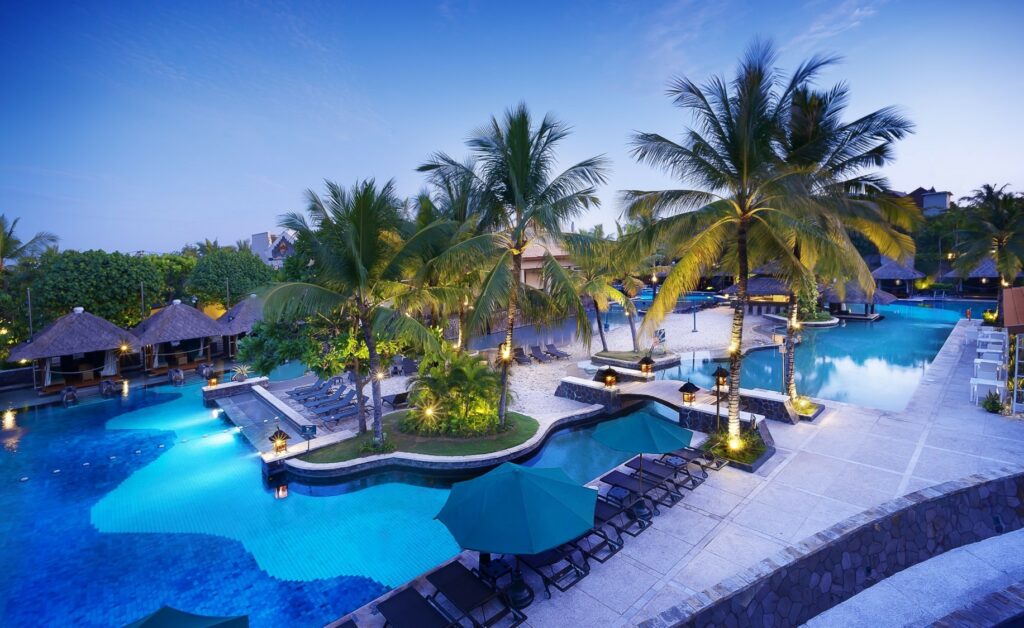 The Local Area: 🎸🎸🎸🎸
Kuta Beach and the surrounding area offer plenty of shopping, dining, and entertainment options. It's actually about as central Bali you can get, but that also means it's quite busy – not an issue if you're in the hotel though. The actual beach is basically as soon as you step out of the Hard Rock. The lively nightlife scene is perfect for those looking to party like a rock star, but for more serene experiences, nearby temples and cultural attractions are just a short drive away.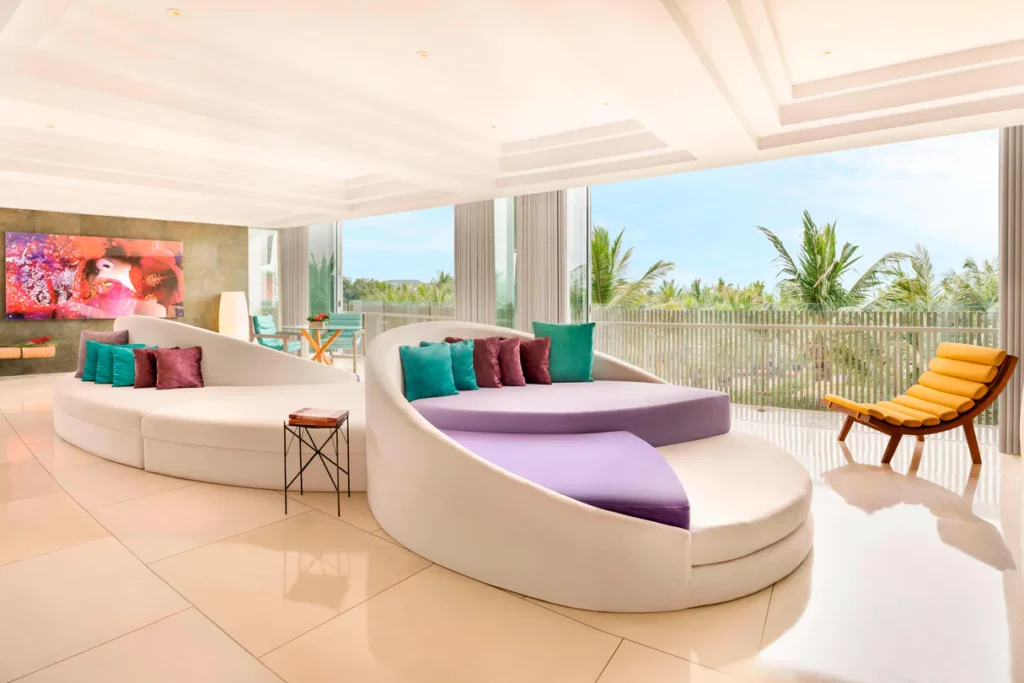 Hard Rock Bali Alternative
Ah, the eternal debate between the Hard Rock Hotel and the W Hotel in Bali! I've had the pleasure of staying at both, and I must say, each has its own unique vibe and charm.
Atmosphere
Hard Rock Hotel: If you're looking for a high-energy, music-filled experience, this is the place to be. With its rock 'n' roll theme and lively atmosphere, you'll feel like you're at a never-ending concert.
W Hotel: The W offers a more sophisticated and stylish ambiance. It's perfect for those seeking a luxurious, trendy, and tranquil escape from the hustle and bustle of daily life.
Location
Both hotels are located in prime spots in Bali. Hard Rock Hotel is situated in the heart of Kuta, known for its lively nightlife and shopping scene, while the W Hotel resides in the upscale area of Seminyak, famous for its chic boutiques and high-end restaurants.
Amenities
Both hotels offer top-notch amenities, including pools, fitness centers, and spas. Hard Rock Hotel has a more family-oriented vibe with its Roxity Kids Club, while the W Hotel caters to a more adult clientele with its exclusive beach club, WooBar, and upscale dining options.
Choosing between the Hard Rock Hotel and the W Hotel in Bali really depends on your personal preferences and the type of experience you're seeking. If you're a music lover looking for a lively atmosphere, the Hard Rock Hotel is your jam. But if you're after a luxurious and stylish getaway, the W Hotel is your ticket to paradise.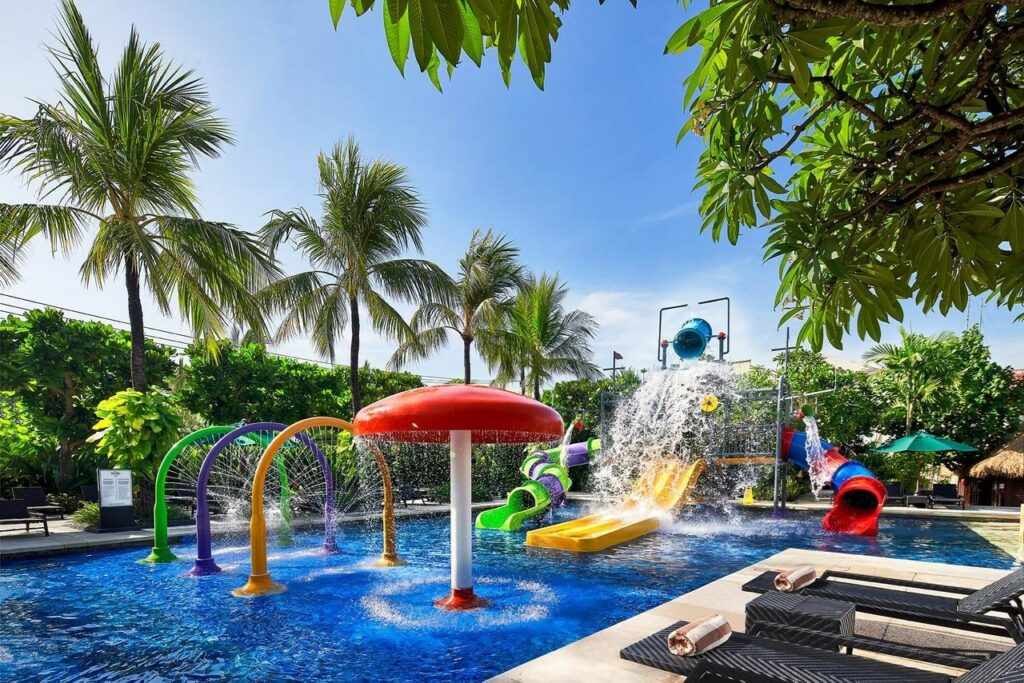 Overall, my stay at Hard Rock Hotel Bali review was a rock 'n' roll experience I won't soon forget. If you're looking for a unique, music-filled adventure in a prime location, this is the place to be. Just remember, it's not for those seeking a quiet, tranquil getaway – this is where the party's at! 🤘
-Visit the Hard Rock Hotel's official website for booking and other unquiries.
---