6 of The Best Shopping Malls in Bali
Bali, the Island of the Gods, is not just a tropical paradise with stunning beaches and rich culture, it's also a shopper's haven!
As an expat living in Bali, I've had the pleasure to explore the various shopping destinations this island has to offer.
For a relatively small island, Bali has quite a lot of shopping malls… a lot. However, many are outdated, out of the way or I wouldn't consider an actual "mall". For the purposes of this list, let's consider a "mall" to be a singular structure (building) that's confined with multiple different shops within it.
Here, I present to you my top 6 picks for the best shopping malls in Bali, each offering a unique shopping experience.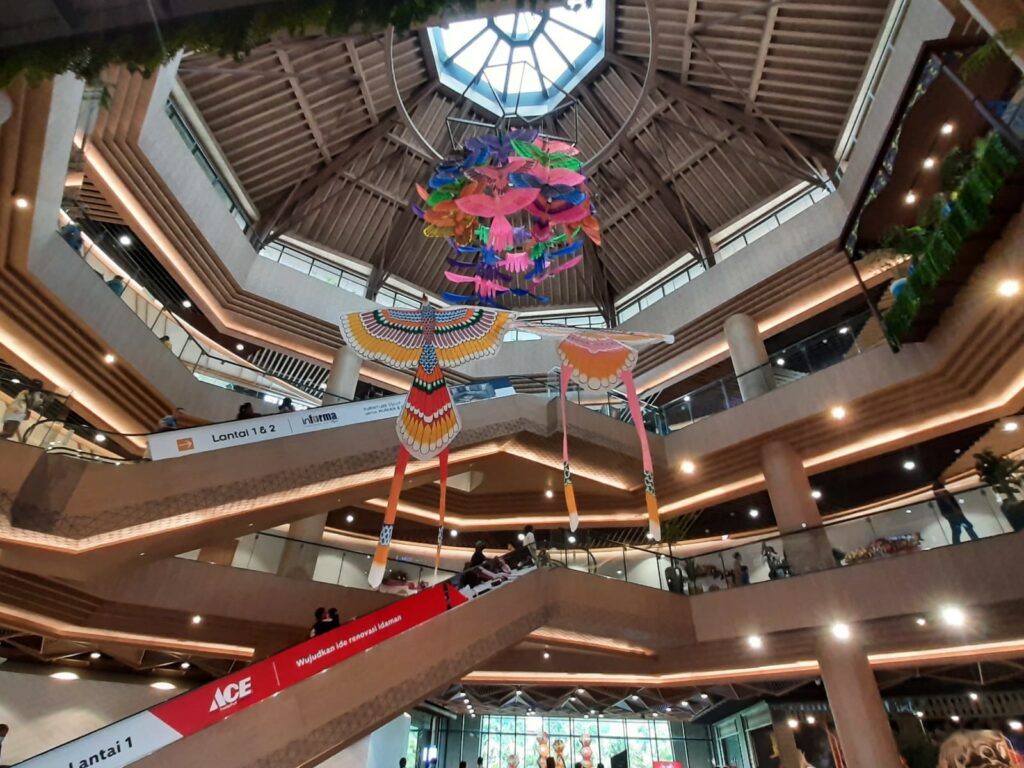 Living World Mall
Location: Jl. Gatot Subroto Timur, Tonja, North Denpasar
The newly opened Living World Denpasar is the largest shopping mall in Bali, spread over 3.5 hectares of land and includes seven floors with two underground parking levels. The mall is environmentally friendly and has a Balinese cultural architectural concept. It houses over 350 tenants, including ACE Hardware, Informa, Uniqlo, Puma, and many more. Notable attractions include the Asian Market with more than 100 culinary booths, a riverside sidewalk, an amphitheater with a capacity of 500 people, and a Rooftop Community Park. There's also an emphasis on local culture and sustainability, with spaces dedicated to local crafts, fashion, and art. The mall has committed to cultural preservation and community development, absorbing 70% of thelocal workforce and actively supporting Balinese art and culture through various initiatives.
At the time of this writing, this mall is only a couple of months old and I've only been there once about a week after its grand opening. Many shops weren't open yet and there were still some bits of construction going on. But I could see massive potential and loved how truly large it was – reminding me of the mega malls of America.
---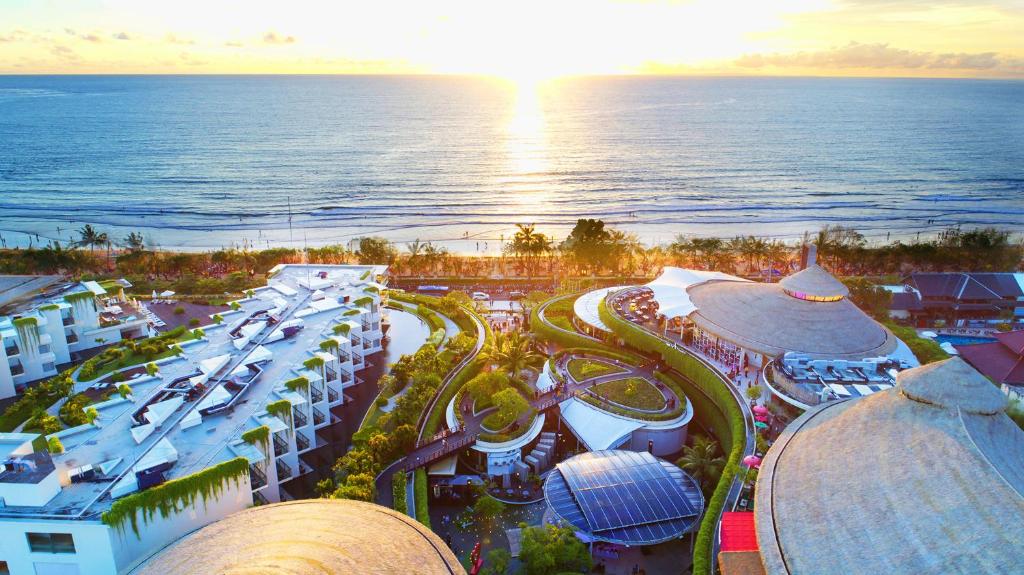 Beachwalk Shopping Center
Location: Jalan Pantai Kuta, Kuta, Kabupaten Badung
Beachwalk Shopping Center is an iconic mall located right beside the famous Kuta Beach. Its stunning architecture with open-air design and lush greenery reflects the essence of Bali. The mall offers a mix of international and local brands. Some of the highlights include high-end (but no "true" luxury) fashion stores, lifestyle and beauty outlets, and a range of restaurants with an ocean view. The Beachwalk is also famous for its cinema and entertainment options, making it a perfect spot for both shopping and relaxation.
This is the mall we go to most often despite the heavy traffic we have to go through to get there. I suppose its because it has a good balance of shops, a nice cinema and designed to be "hangy-outy".
---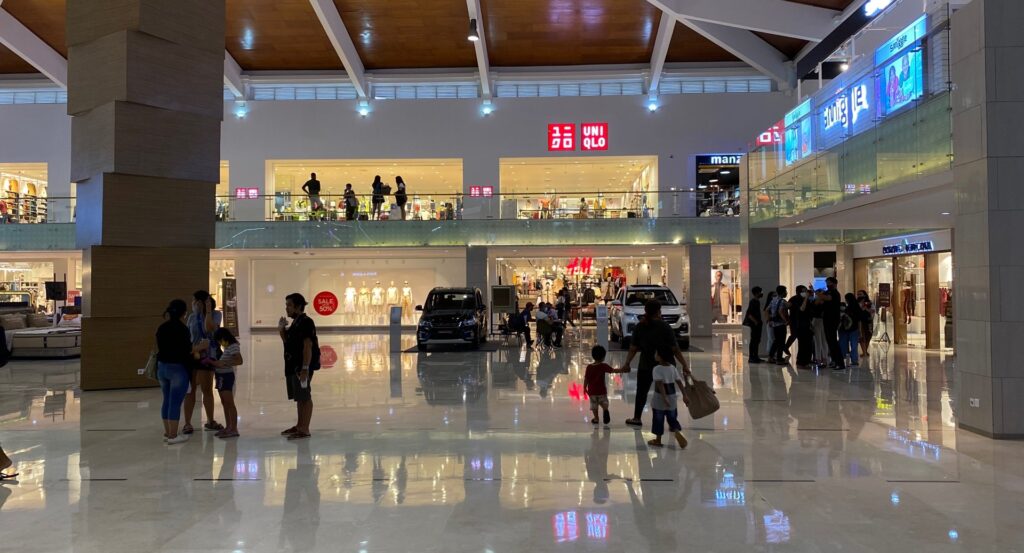 Galleria Mall
Location: Jl. By Pass Ngurah Rai, Simpang Dewa Ruci, Kuta, Kabupaten Badung
A few minutes drive from Kuta, Galleria Mall is one of the island's established shopping destinations. The mall is known for its expansive range of stores, including department stores, fashion brands, bookstores, and electronic shops. With its spacious layout, Galleria Mall is the perfect place to shop for souvenirs, clothing, and electronics. The food court offers a variety of cuisines, and the entertainment options include a cinema and arcade games. Don't miss the traditional dance performances that take place regularly.
This is probably the second most visited mall for us. I believe it's the second largest mall in Bali but with a subpar cinema. However, what separates this mall from all others in Bali is the fact that it has the only "real" luxury brands here, such as Cartier, Hermes, Omega and Burberry.
---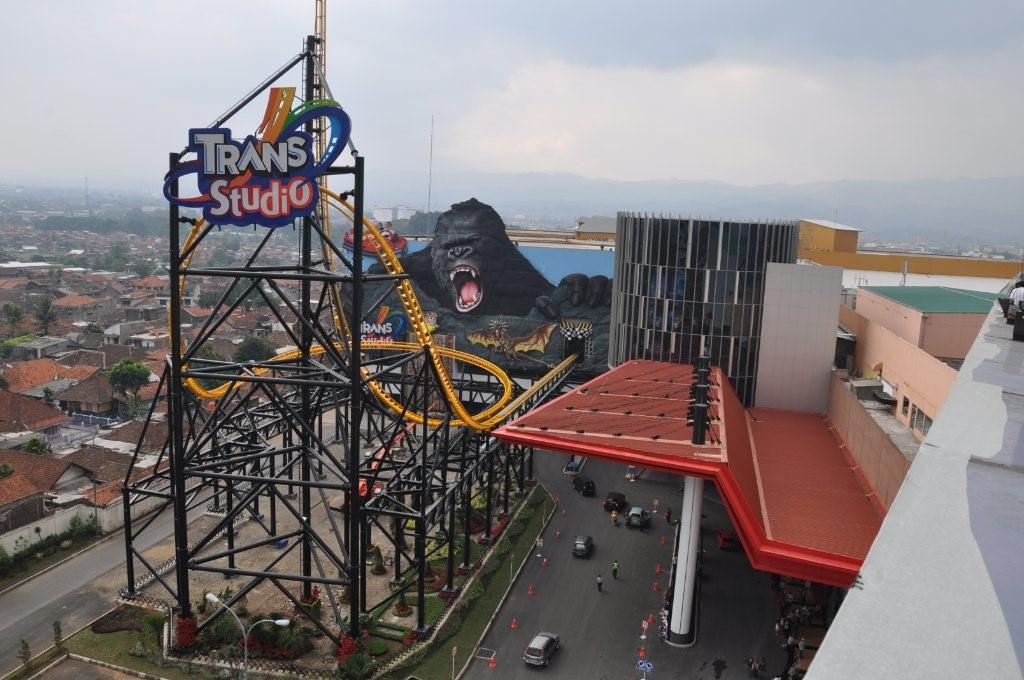 Trans Studio Mall (TSM) Bali
Location: Jl. Imam Bonjol, Pemecutan Kelod, Denpasar Barat, Denpasar City
Trans Studio Mall, commonly known as TSM, is a relatively new addition to Bali's shopping scene. Located in Denpasar, it is part of a larger complex that includes the Trans Studio Theme Park. The mall boasts an impressive selection of fashion, electronics, and home goods stores. The highlight of TSM is its indoor amusement park, making it a family favorite. Additionally, the mall has numerous dining options ranging from fast food to fine dining, as well as a high-end cinema.
We go here sometimes for the good cinema, and occasional shopping – but mostly because it's easy for us to get here by bike with little traffic.
---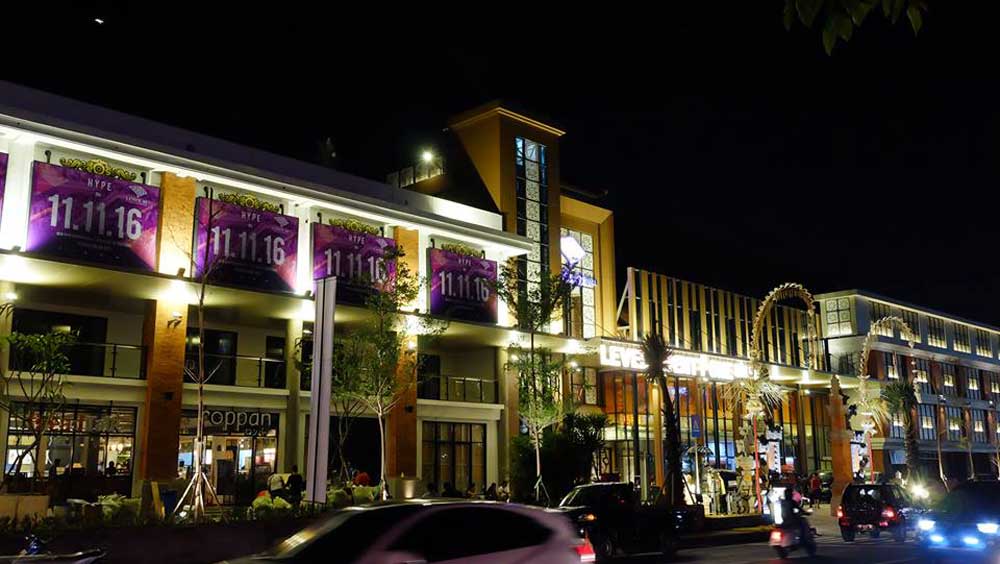 Level 21 Mall
Location: Jl. Teuku Umar No.1, Dauh Puri Klod, Denpasar Barat, Denpasar City
Another gem in Denpasar is Level 21 Mall. As the name suggests, this mall is modern and trendy. With its chic interior design and a wide range of international and local brands, Level 21 is a favorite among fashionistas. The mall also houses a cinema with the latest blockbusters, a food court with an array of international cuisines, and a play area for kids. Regular events and exhibitions make Level 21 a vibrant and engaging shopping destination.
Although somewhat out of the way for us (coming from Umalas), this is a great general mall in the sense that it's not that large but houses many shops – as in it's the most vertical mall on this list. You don't have to walk too much to see everything and has a nice cinema.
---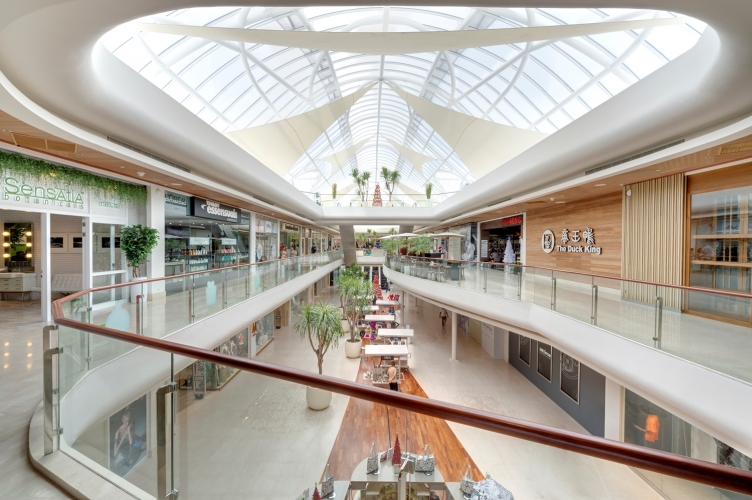 Seminyak Village Mall
Location: Jl. Kayu Jati No.8, Seminyak, Kuta, Kabupaten Badung
Last but not least, Seminyak Village Mall is a boutique shopping mall located in the upscale area of Seminyak. The mall's elegant design and cozy atmosphere make it a perfect destination for a leisurely shopping spree. With a curated selection of high-end fashion brands, artisanal goods, and gourmet dining options, Seminyak Village Mall offers a more luxurious shopping experience. The rooftop terrace is a must-visit, with stunning views and a relaxing ambiance.
This is the smallest mall on this list but in some ways the most conveniently located. We come here because it's very close to us and the surrounding area outside is excellent for jalan jalan and more shopping.
---
From the island's largest shopping center to the beachside allure of Beachwalk Shopping Center to the luxurious sophistication of Seminyak Village Mall, Bali offers a rich tapestry of shopping experiences. As an expat, I've found that each mall has something unique to offer. Whether you are looking for the latest fashion trends, souvenirs, or simply a place to unwind, these malls will not disappoint.
So, on your next trip to this enchanting island, make sure to visit these shopping paradises and immerse yourself in the ultimate retail therapy. Happy shopping!
---