Bali for Digital Nomads: A Paradise for Remote Work
As a self-proclaimed digital nomad and Bali expat, I have had the privilege of calling this tropical paradise my "office" for the past few years.
And trust me when I say, there's no place quite like it for those who wish to blur the lines between work and play.
Bali, with its robust expat culture, has quickly become one of the most desirable destinations for digital nomads worldwide. Here, we have a community of like-minded people who understand the unique lifestyle that comes with location-independent work. This shared understanding creates an unparalleled sense of community and camaraderie among nomads in Bali.
One of the most significant factors that sets Bali apart as a digital nomad hotspot is its vast English-speaking population. The locals are incredibly friendly and welcoming towards foreigners, contributing to an atmosphere that makes settling in an enjoyable process rather than a daunting one. It's like stepping into a home away from home.
And let's talk about the convenience of working here. Internet access? It's virtually everywhere. The island is teeming with co-working spaces and cafes offering high-speed Wi-Fi, comfortable working environments, and even the much-needed dose of caffeine to fuel your workdays. From chic and modern co-working spaces in Canggu and Seminyak to the eco-friendly bamboo offices in Ubud, the options are as varied as they are numerous.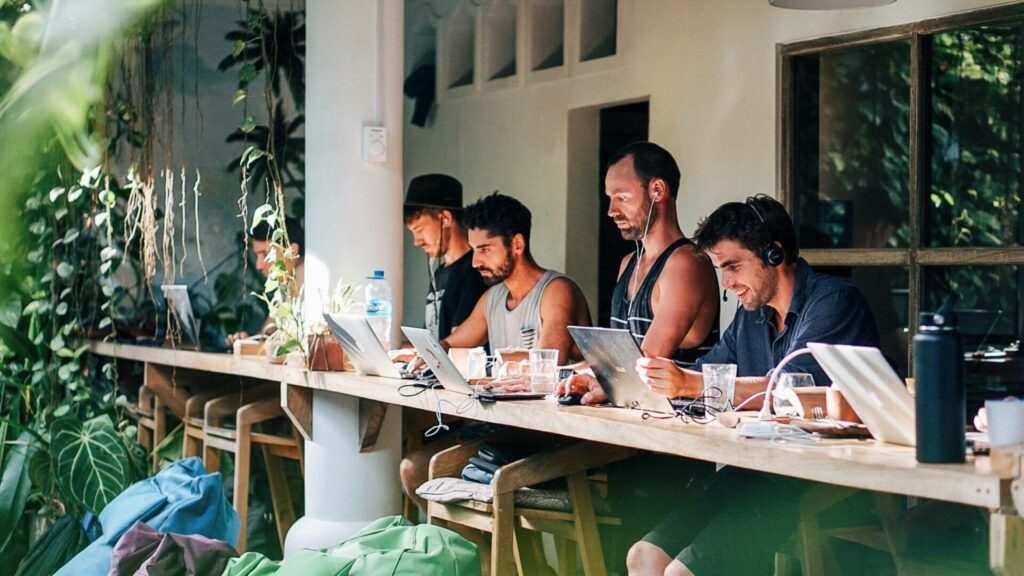 Another element that makes Bali a favored destination for digital nomads is its approachable visa process. It's relatively easy to get a tourist visa, which can be extended for up to six months. This flexibility allows nomads to live and work in Bali without the constant worry of visa runs or overstaying.
But the game-changer here is the newly introduced "digital nomad visa." It's a significant step by the Indonesian government, acknowledging the burgeoning digital nomad community. This visa further simplifies the process and grants a legal framework for working remotely in the country.
However, like every coin has two sides, being a digital nomad in Bali has its drawbacks too. While the digital nomad visa is a big leap forward, it's still not a catch-all solution for every working situation. Any "real" work, such as opening a physical business or getting a local job in Bali, requires a specific work permit and visa, which is a more complex process.
Despite this, the overall experience of being a digital nomad in Bali largely outweighs the occasional hurdles. The island's vibrant culture, stunning landscapes, and welcoming community make it more than just a place to work. It's a lifestyle choice, an opportunity to redefine what "work-life balance" means to you.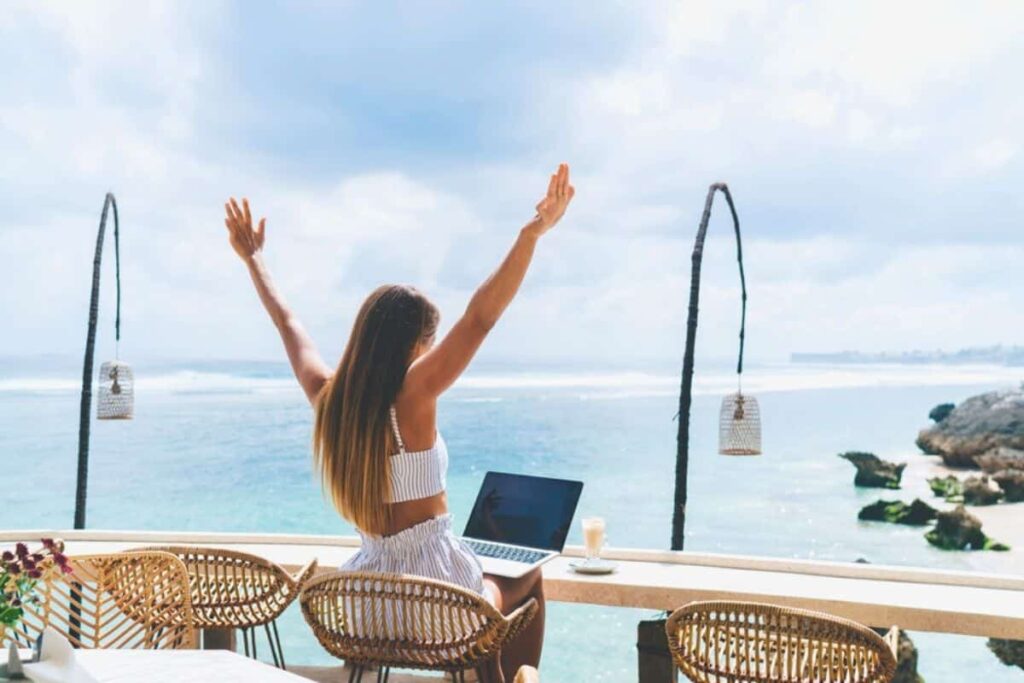 Cost of Living in Bali for Digital Nomads
One of the standout advantages of choosing Bali as your base as a digital nomad is its affordable cost of living. For those coming from western countries, the difference is particularly noticeable. With your dollars or euros stretching further, you can enjoy a comfortable, even luxurious lifestyle without breaking the bank.
Accommodation in Bali varies significantly in price depending on the area and type of housing, but it's generally quite affordable. You can rent a traditional Balinese villa with a private pool in a central location for a fraction of the price you would pay for a small apartment in a city like New York or London. Alternatively, a shared accommodation or homestay option can reduce your housing costs even more, freeing up budget for travel, food, or those yoga and surf classes you always wanted to try.
Eating out in Bali is an everyday luxury that doesn't have to break the bank. From local warungs (food stalls) where you can get a delicious meal for a couple of dollars, to high-end restaurants with world-class cuisine, there's something for every budget. Not to mention the healthy food scene in Bali is thriving, with many affordable options for those on a wellness journey.
When it comes to transportation, most digital nomads opt to rent a scooter – the island's primary mode of transport. It's not only affordable, but it also offers the freedom to explore the island at your leisure. For non-riders, taxi services like Grab and Gojek offer rides for as little as a couple of dollars.
While it's true that Bali isn't the cheapest destination in Southeast Asia (neighboring countries like Thailand and Vietnam can be less expensive in certain respects), it continues to be one of the most affordable places to live globally. And considering the island's allure – the incredible landscapes, rich cultural experiences, and the vibrant expat community – many digital nomads find the slight uptick in cost compared to other Southeast Asian countries more than worth it.
Being a digital nomad in Bali is about finding a balance between cost and lifestyle. With careful budgeting and mindful choices, you can enjoy a lifestyle of tropical luxury without exhausting your wallet. In the end, the value of living and working in a place as beautiful and culturally rich as Bali far exceeds the cost.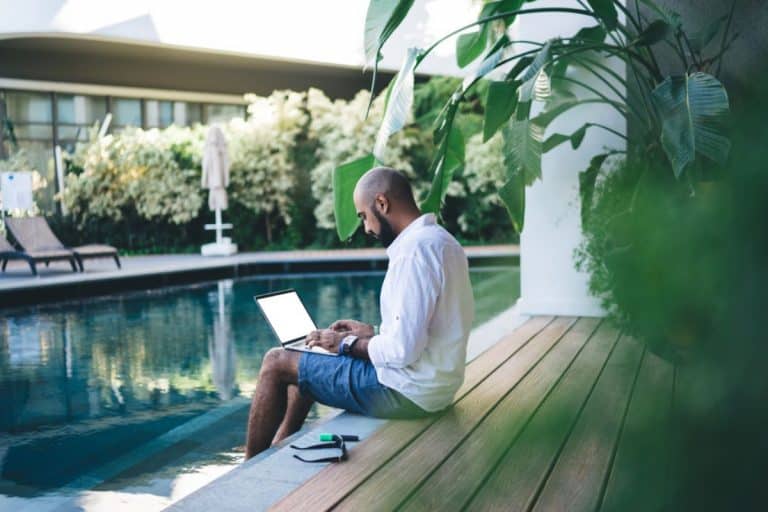 Bali versus Chiang Mai
Chiang Mai in Thailand has long been a mecca for digital nomads, with its low cost of living, tranquil lifestyle, and bustling night markets. However, Bali competes well in this regard. Both places offer a rich cultural experience, but Bali takes it up a notch with its mesmerizing landscapes – think terraced rice fields, volcanic mountains, and pristine beaches. While Chiang Mai has a more laid-back vibe, Bali provides a blend of tranquility in places like Ubud and energetic nightlife in areas like Seminyak and Canggu.
Bali versus Lisbon
Lisbon is an emerging hot spot for digital nomads, largely because of its vibrant tech scene, historical charm, and beautiful coastlines. However, Bali offers a more relaxed and tropical environment, and an arguably stronger sense of community among digital nomads. The cost of living is also generally lower in Bali than in Lisbon, making it a more affordable option for long-term stays. While Lisbon offers the buzz of a European city, Bali offers an escape to an island paradise where work seamlessly blends with leisure.
Bali versus Ho Chi Minh City
Ho Chi Minh City is a bustling urban jungle that's enticing for digital nomads who love fast-paced city life. It offers a rich history, a thriving street food scene, and an energetic nightlife. On the other hand, Bali has a more laid-back lifestyle, with a stronger focus on wellness and personal development. The co-working spaces in Bali are more abundant and diverse, often providing community events and workshops for personal and professional growth. While Ho Chi Minh City offers an exciting urban adventure, Bali offers a more balanced lifestyle, with opportunities for adventure, relaxation, and cultural immersion.
While Chiang Mai, Lisbon, and Ho Chi Minh City each offer unique advantages for digital nomads, Bali's blend of natural beauty, rich culture, wellness-focused lifestyle, and a warm, welcoming community makes it a standout choice. Its affordability, coupled with the convenience of working in a tropical paradise, sets it apart as a top destination for those who seek to work, live, and explore in one of the world's most beautiful settings.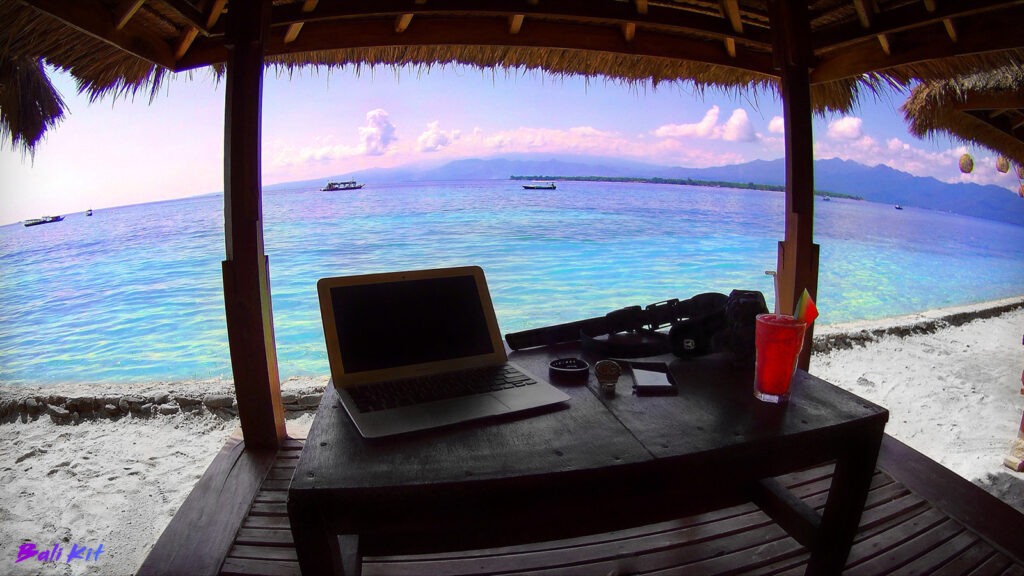 So, if you're a digital nomad yearning for a change of scene, consider Bali. It's not just a destination; it's a community, a vibe, a way of life that blends productivity with the joy of exploration. And in the current age of remote work, isn't that exactly what we're all seeking?
---