Uluwatu, Bali: Travel Guide
Having lived in Bali as an expat for years now, one of the many places that has stolen my heart is Uluwatu, a gem in the southwestern tip of the Bukit Peninsula.
This is a travel, lifestyle, backpacking and expat guide on Uluwatu. This will be a work in progress that will be updated continuously and periodically.
Where is Uluwatu?
If you're familiar with the island's layout, you'll know that Uluwatu is situated south of the bustling tourist hub of Seminyak. Approximately a 45-minute drive away, Uluwatu feels like a different world altogether. While Seminyak is known for its lively nightlife, trendy boutiques, and upscale restaurants, Uluwatu offers a more laid-back, nature-focused environment.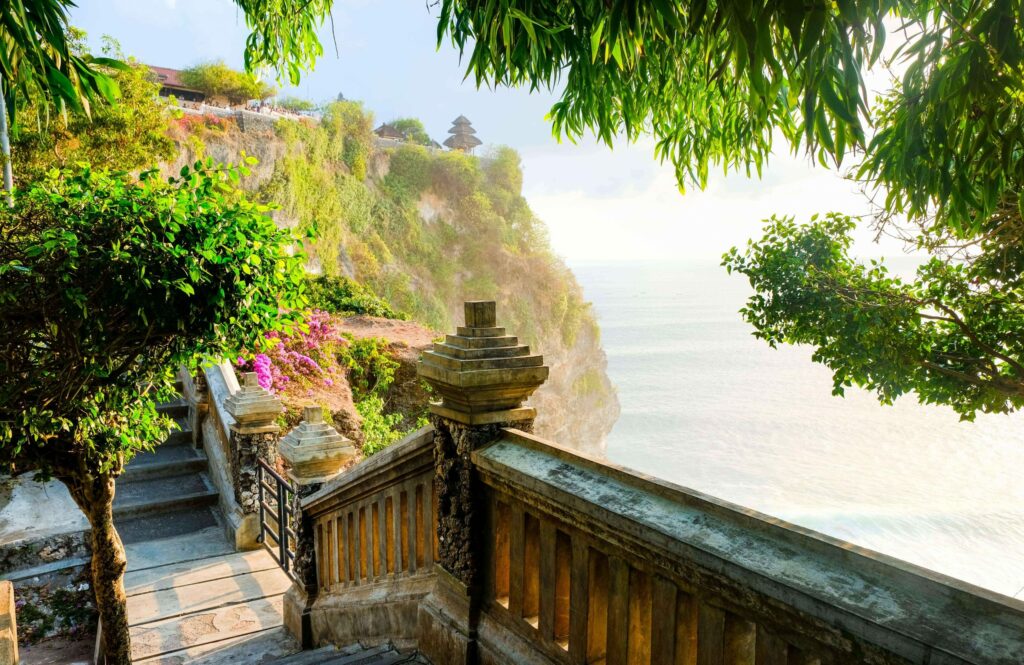 What Sets Uluwatu Apart
Unlike the rest of Bali, Uluwatu is characterized by its rugged cliffs, pristine beaches, and world-class surf breaks. The region has maintained a more traditional ambiance, with stunning Hindu temples and cultural performances adding to its charm.
Uluwatu's unique geography, with high cliffs dropping dramatically into the Indian Ocean, has made it a prime location for cliff-top hotels and villas that offer breathtaking views. These accommodations provide an unmatched experience of waking up to the sights and sounds of the ocean right at your doorstep.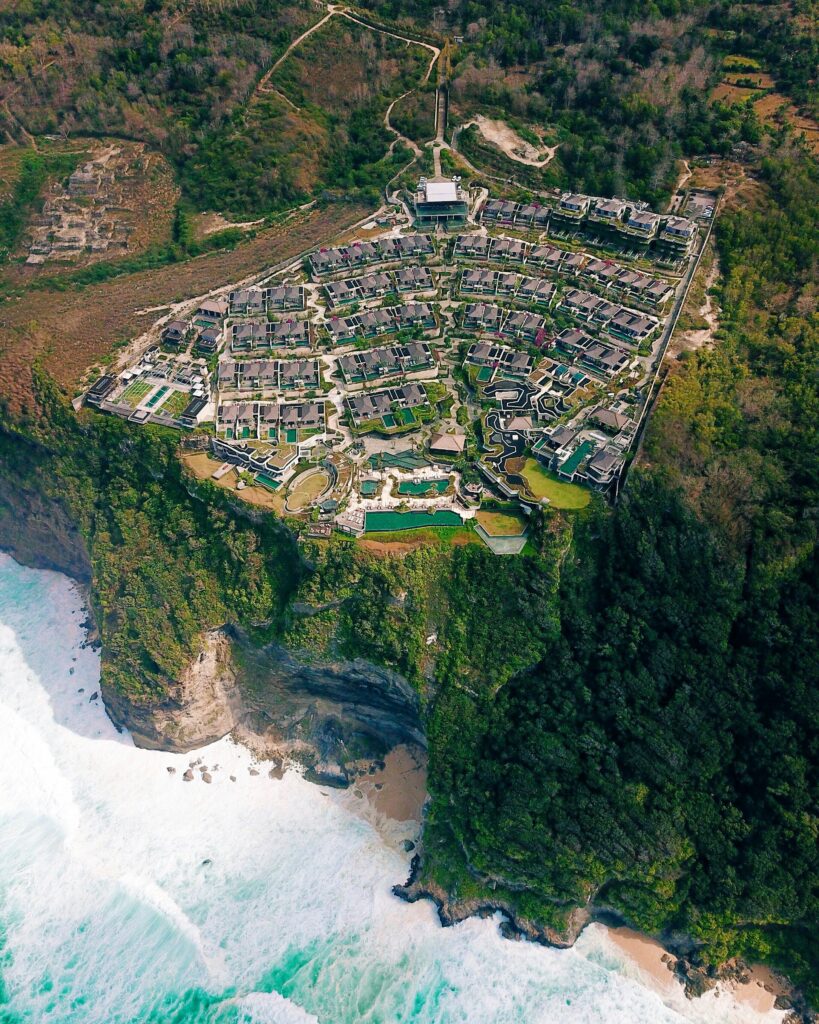 Navigating Uluwatu: A Look at the Roads
As you may already know, Bali's roads can be quite an adventure, and Uluwatu is no exception. When it comes to transportation and getting around in Uluwatu, there are a few key points to bear in mind.
Uluwatu is characterized by hilly terrains and winding roads that meander along the cliffs and down to the beaches. The roads here are a mix of main thoroughfares and smaller, narrower streets, often only wide enough for a single car or a few motorbikes.
Driving in Uluwatu can be a thrilling experience, particularly on a motorbike, which is the most common mode of transportation in Bali. The views as you ride along the cliffside roads are truly breathtaking. However, it's important to note that these roads can be challenging for those who are not used to driving in such conditions. The roads can be steep and curvy, and during the rainy season, they can become slippery.
What to Do in Uluwatu
One thing you'll never run out of in Uluwatu is activities. Here are a few that should make it to the top of your list:
Surfing
Uluwatu is a surfer's paradise. With its consistent swells, it's regarded as one of the best surfing spots in Bali, if not the world. From the long and hollow walls of Uluwatu's main break to the powerful barrels at spots like Padang Padang and Bingin Beach, there's a challenge for every level of surfer.
Visit Uluwatu Temple
The Uluwatu Temple, perched atop a steep cliff, is a must-visit. This sacred Hindu temple, which dates back to the 10th century, offers stunning sunset views and a chance to witness the traditional Kecak fire dance performance.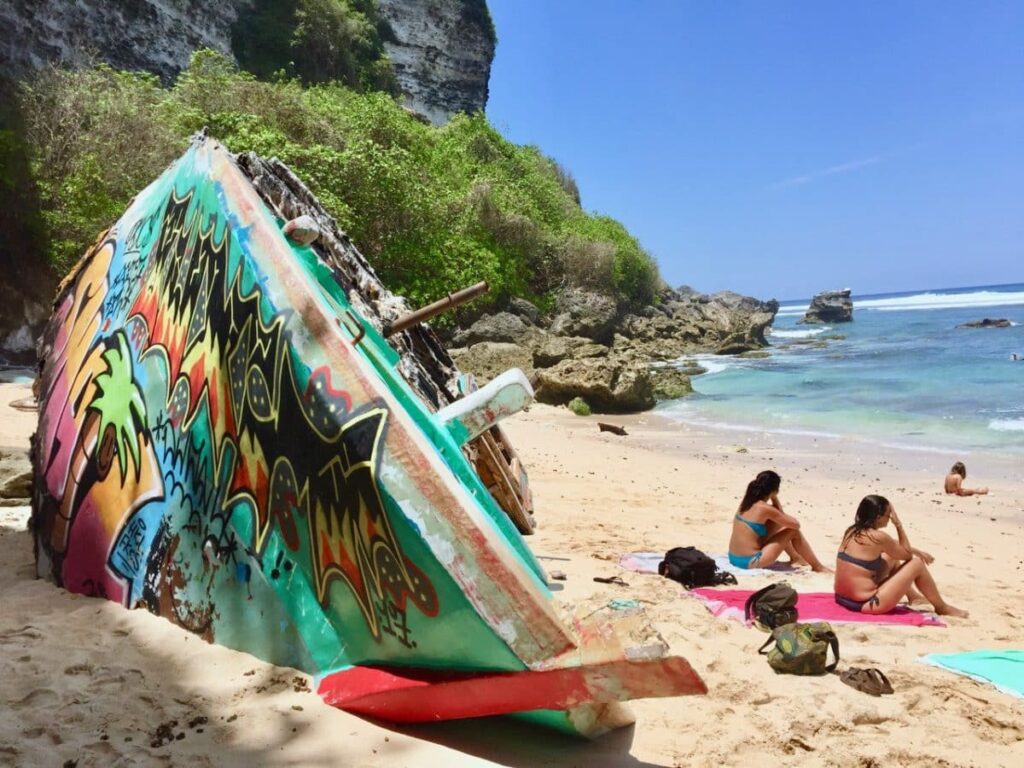 Explore Beaches
Uluwatu is home to some of Bali's most beautiful beaches that are perfect for sunbathing, swimming, and beachside dining.
Padang Padang Beach: This beach is known for its turquoise water, soft sand, and coral reefs. It's also popular among surfers and families due to its calm water and small lagoon​.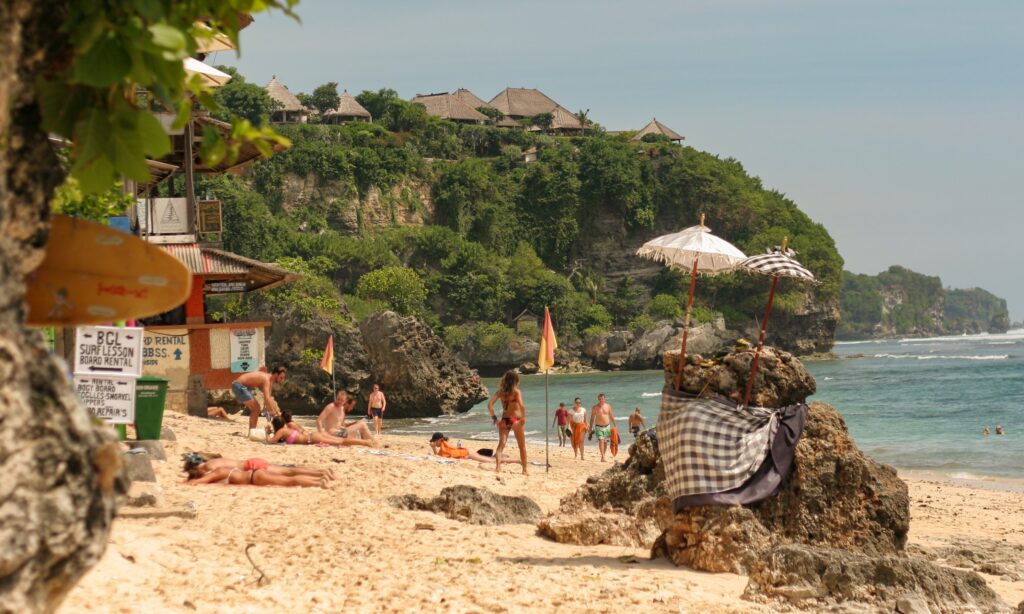 Bingin Beach: This is a beautiful and clean beach with great waves, making it ideal for surfing. Additionally, it's less crowded compared to other beaches, which makes it perfect for those looking for a quieter beach experience​.
Uluwatu Beach: Also known as Pantai Suluban, this beach is well-known for its unique location beneath a rock formation and is accessible through narrow gaps and steps. It's a top choice among surfers due to its powerful waves​.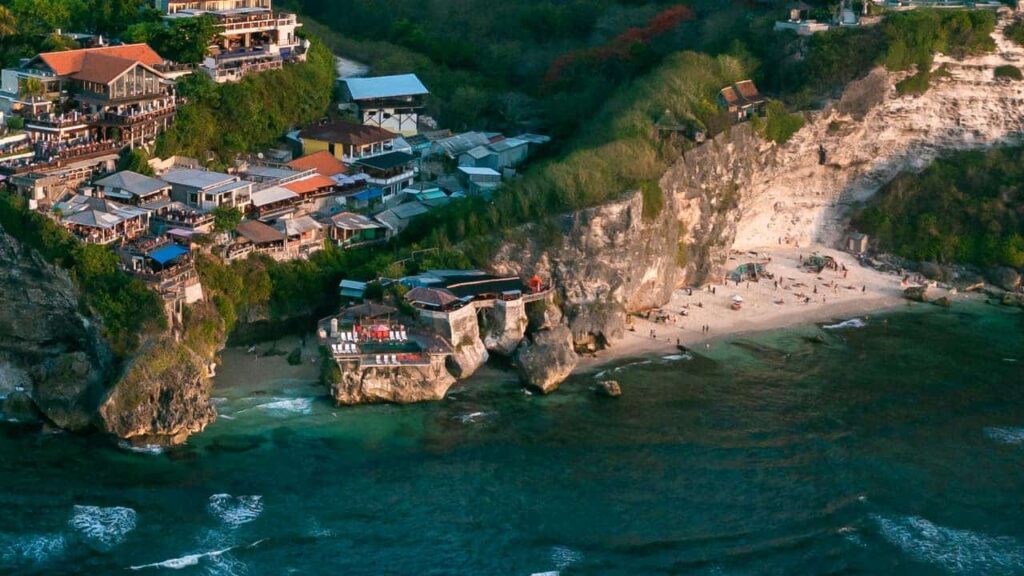 Dreamland Beach: This is a beautiful white sand beach surrounded by high cliffs and crystal clear water. It's a great spot for surfing, sunbathing, and enjoying the sunset​.
Uluwatu Dining
The culinary scene in Uluwatu is as diverse as it is delicious, offering a range of eateries from luxury dining establishments to relaxed cafes.
For a luxurious and lavish dining experience, the JU-MA-NA restaurant is a prime spot. This restaurant, located within the Ungasan Resort, offers a fine dining experience with an ocean view. The menu combines French and Japanese cuisine with unique cocktails, providing a memorable dining experience​.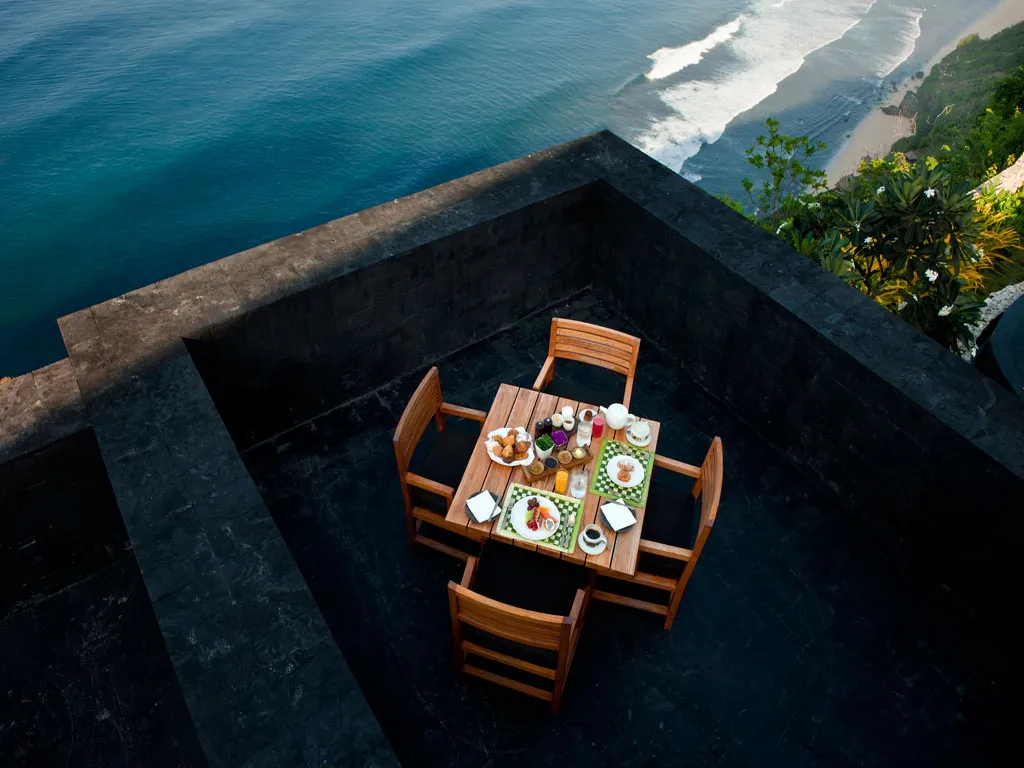 The Sangkar Restaurant, part of the Bvlgari Resort, is another top choice for fine dining. It serves a mix of classic Indonesian and Italian dishes in a relaxed yet decadent setting, with the bonus of stunning ocean views. You'll find traditional local cuisine as well as Italian favorites, all prepared with an elegant touch​.
If you're in the mood for Italian, La Baracca is an excellent option. Known for its vibrant atmosphere and Instagrammable dishes, this restaurant is famous for its pizzas. The combination of fresh sauce, diverse toppings, and crusty base creates an unforgettable pizza experience. A notable highlight is the Prosciutto pizza, offering a perfect blend of sweet and salty flavors​.
Coffee lovers will find solace in Suka Espresso, a popular spot known for its perfectly prepared coffees, tasty breakfasts, and buddha bowls. It's an ideal place to meet friends for brunch or to get some work done in a relaxed, friendly atmosphere​.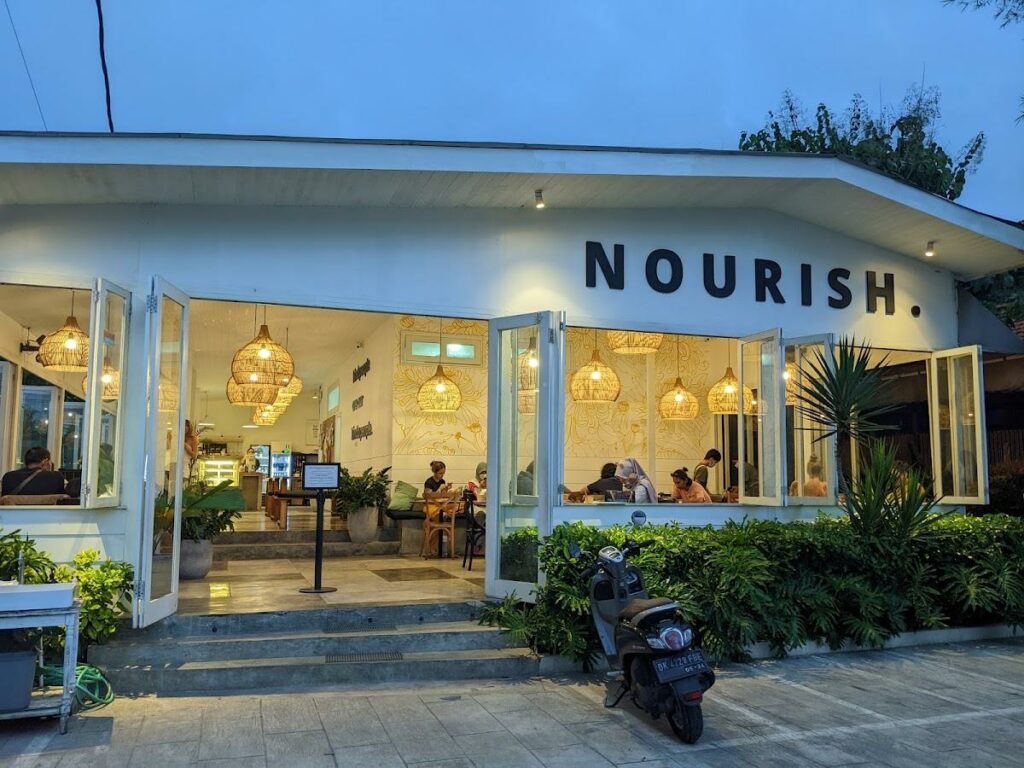 Nourish Cafe & Pizzeria is another hotspot, particularly for a pre-beach brunch. Offering a large breakfast and brunch menu, it's an excellent spot to indulge in burgers, wraps, full-cooked breakfasts, and bagels. Whether you dine in for a relaxed meal or take your food to enjoy on the beach, Nourish never disappoints​.
For healthy, guilt-free treats, Bali Buda is the way to go. With a diverse menu ranging from curries to cakes, oatmeal to sandwiches, this cafe offers a variety of options to suit any time of day. Their coconut oatmeal and selection of soups come highly recommended, providing a comforting taste of home in this tropical location​.
These are just a few of the incredible dining options available in this Uluwatu guide. There's something to satisfy every palate, making it a true food lover's paradise.
The Expat Community
The expat community in Uluwatu, and in Bali more generally, is diverse and vibrant. You'll find digital nomads working from trendy cafes, surfers chasing the perfect wave, yoga enthusiasts seeking tranquility, and retirees enjoying a relaxed lifestyle.
Living in Uluwatu, you'll find a mix of luxury and simplicity that's hard to resist. From the stunning cliffside villas to the local warungs (small family-owned businesses), this place truly has something for everyone.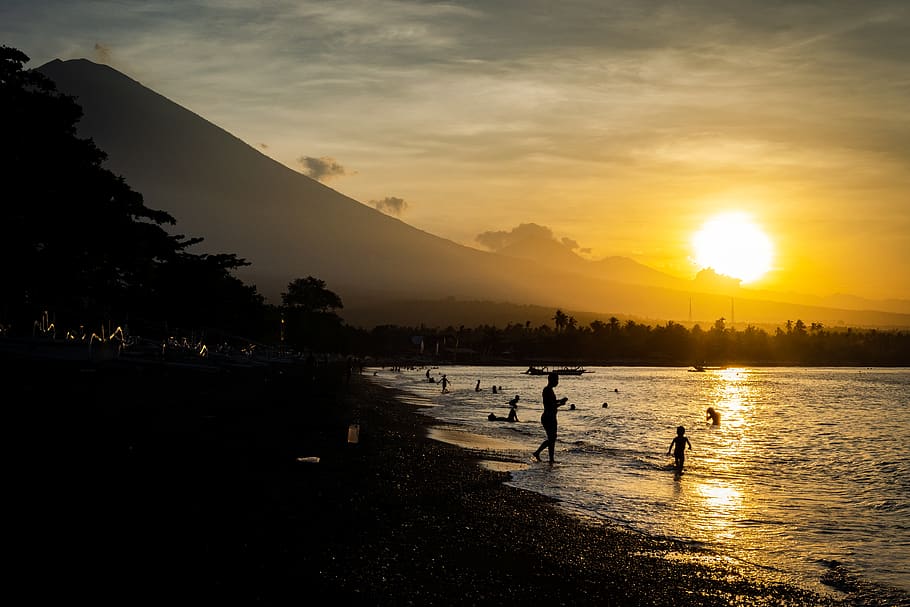 Uluwatu vs. Amed: A Tale of Two Balinese Paradises
When exploring the diverse locales of Bali, the contrasting characters of Uluwatu and Amed stand out. Each offers its unique charms and experiences, appealing to different types of travelers or residents. Here's an overview to help you decide where to head next.
Uluwatu: Surf and Cliffside Luxury
As we've already explored, Uluwatu is renowned for its cliffside vistas, world-class surf breaks, and luxurious accommodations perched on the edge of dramatic cliffs. The area is a hub for surf enthusiasts worldwide, thanks to the consistent, high-quality waves.
The Uluwatu Temple, one of Bali's spiritual pillars, is another key attraction, drawing visitors to its cliff-edge location, particularly for the breathtaking sunsets. The area also boasts beautiful beaches, such as Padang Padang and Bingin, perfect for lounging or swimming when the surf is calm.
The dining scene in Uluwatu is versatile, offering a mix of local warungs serving Indonesian cuisine and upscale restaurants with international menus. Nightlife is relatively low-key, with the occasional beach club or bar offering evening entertainment.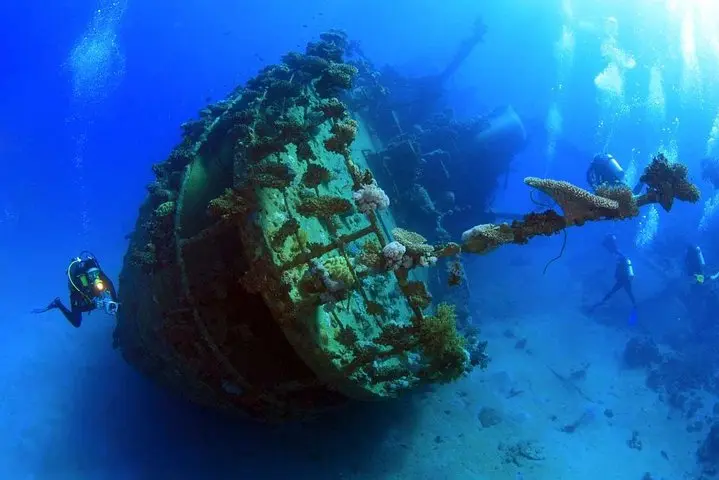 Amed: Underwater Wonder and Serene Beaches
On the other hand, Amed, located on the eastern tip of the island, offers a more tranquil, off-the-beaten-path experience. It's a world away from the surf culture of Uluwatu, known instead for its fantastic snorkeling and diving opportunities. The calm, clear waters of Amed house a rich variety of marine life and shipwrecks, including the famous USAT Liberty Wreck in nearby Tulamben.
The area is characterized by black sand beaches, a result of past volcanic activity, which lend an otherworldly charm to the seaside. While you won't find the luxury cliffside villas of Uluwatu here, there are plenty of cozy beachfront bungalows and guesthouses that offer direct access to the sea.
The Verdict
In summary, both Uluwatu and Amed offer distinct and memorable experiences. Uluwatu is your destination for surfing, dramatic cliffs, and a bit of luxury, while Amed offers a serene atmosphere, fantastic diving, and a peek into local traditions.
Choosing between the two depends on what you seek from your Balinese adventure. You might even find that a combination of both gives you the best of Bali's diverse offerings. As an expat, I've found joy in exploring the many faces of this beautiful island, and I'm sure you will too.

Uluwatu is a unique blend of natural beauty, cultural richness, and a sense of community that makes it an extraordinary place to live or visit. Whether you're a surfer, a culture enthusiast, or someone seeking tranquility and nature, Uluwatu has something to offer you. It's a place that captures the essence of Bali, a place that I'm lucky to call home.
---