Rock Bar Bali: Review
Rock Bar Bali, perched on the limestone cliffs of Jimbaran Bay within the luxurious AYANA Resort, offers an unparalleled sensory experience, combining dramatic ocean views with a sophisticated ambience.
Set 14 meters above the Indian Ocean, this unique bar is built on natural rocks, boasting modern yet rustic design elements.
Patrons are treated to panoramic sunset vistas, a curated cocktail menu by international mixologists, and a seamless blend of modern luxury and natural beauty, all while the soothing melodies of crashing waves provide a serene backdrop.
Tucked away in the limestone cliffs of Bali's southwest coast, Rock Bar Bali is not just a bar, it's a sensory experience. A blend of awe-inspiring natural views, a minimalist yet luxurious design, and an upscale, relaxed atmosphere makes this a must-visit spot for anyone venturing to the Island of the Gods. It's more than a place to grab a drink; it's an enclave of relaxation and a celebration of the vibrant Balinese culture.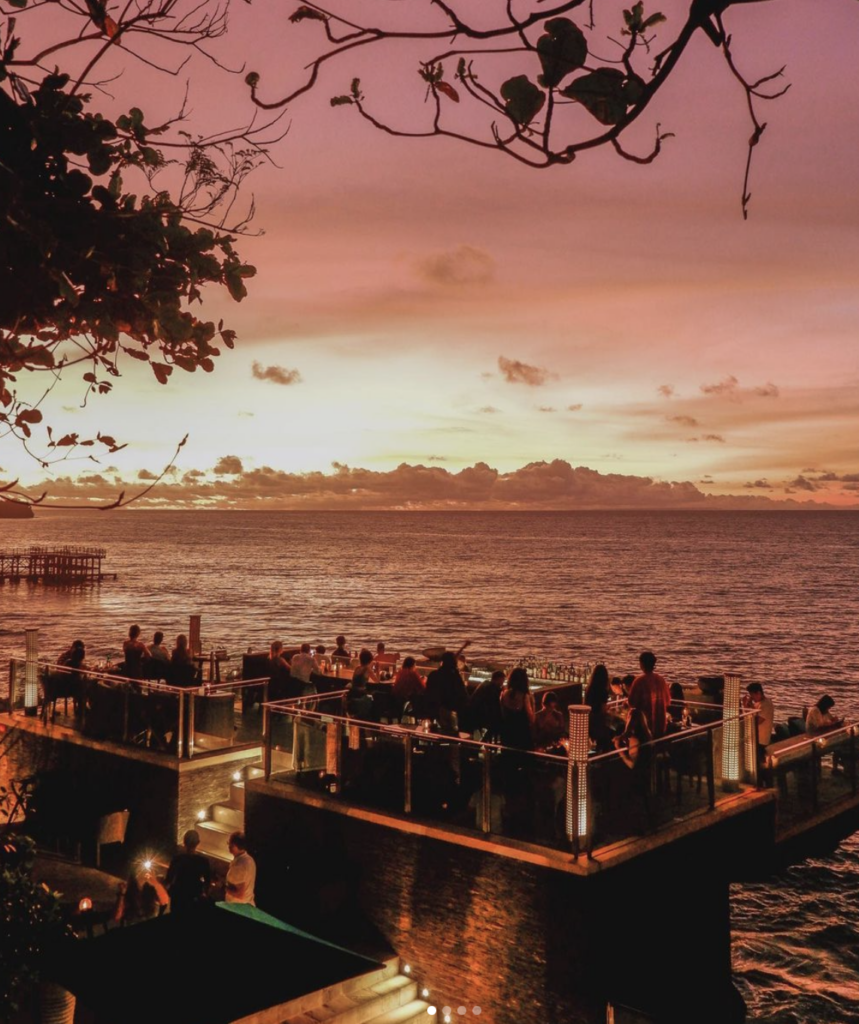 What is Rock Bar?
Rock Bar is situated within the prestigious AYANA Resort and Spa in Jimbaran Bay. The bar is quite literally built on natural rocks, boasting a 14-meter high cliff-top perch overlooking the Indian Ocean. It's renowned for its panoramic views, especially during the sunset hours, where the sky transforms into a stunning pastel canvas, as if performing a private show for the bar's patrons.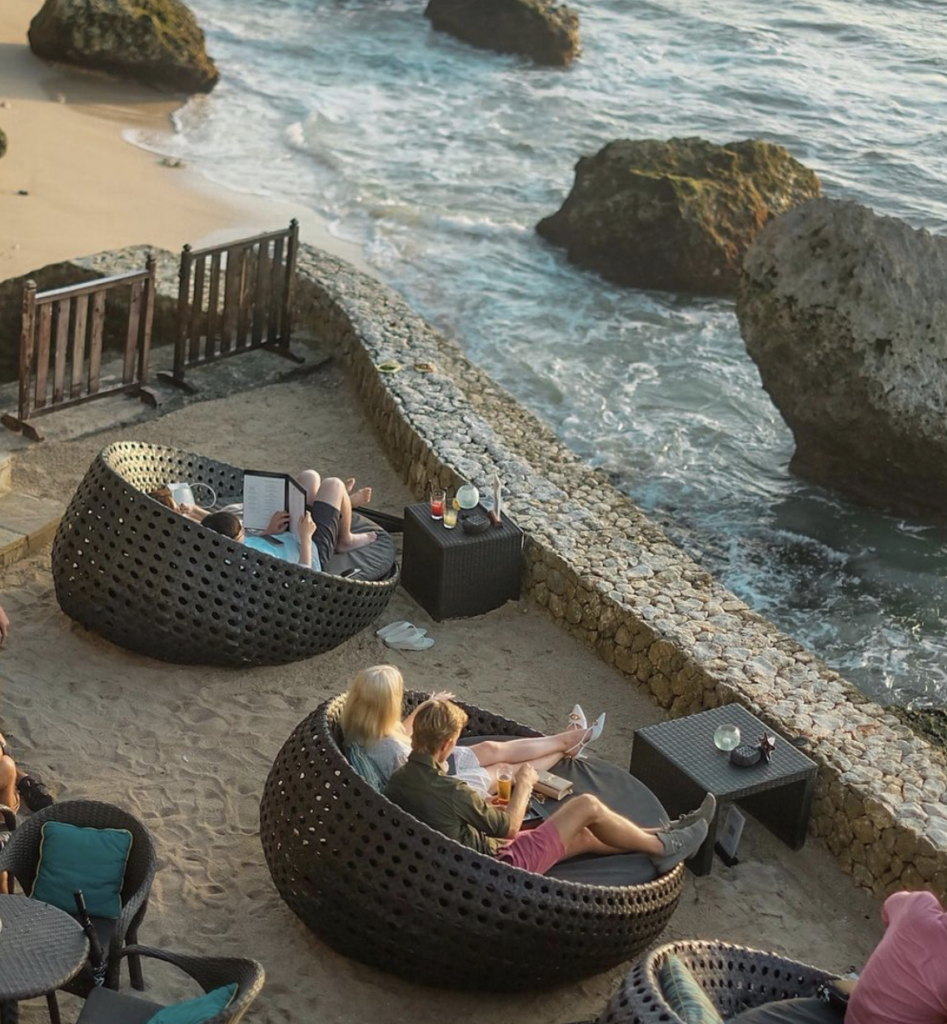 What's on the Menu?
The menu at Rock Bar is as diverse as it is exciting. Apart from the standard bar menu, you'll find an array of international and Balinese cuisine options. Whether it's the locally-sourced seafood platter or the array of sushi and tapas, there is something to suit every palate.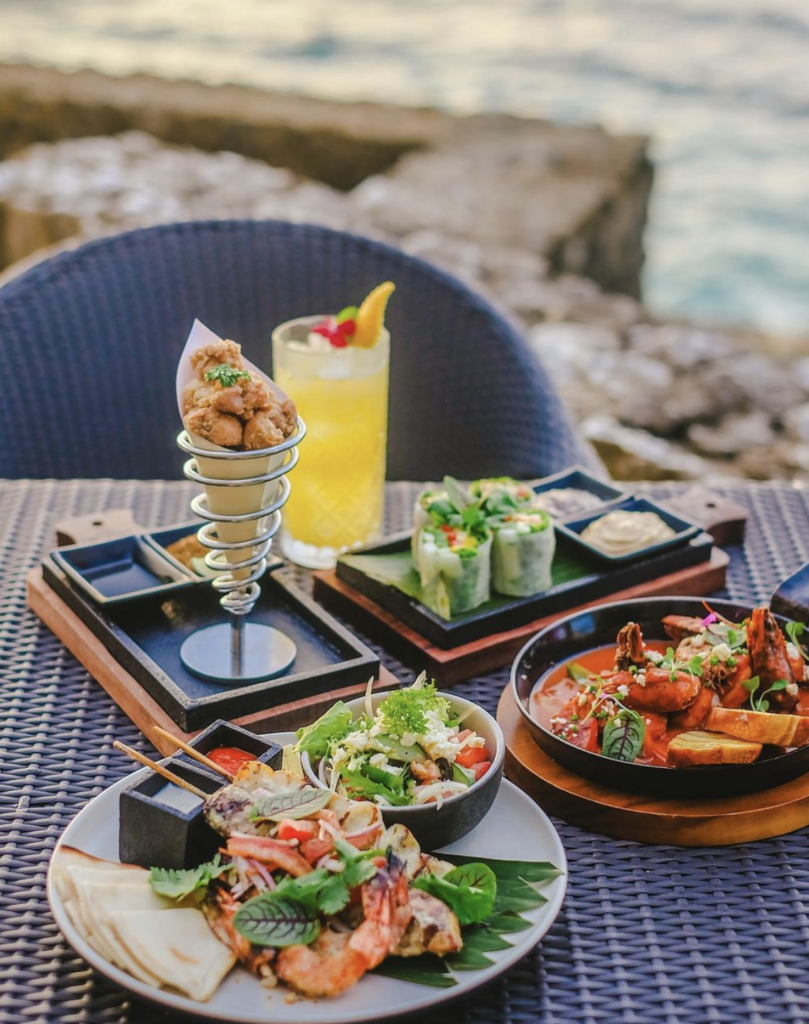 The Drinks
Being a bar first and foremost, the highlight here is undeniably the drinks. The cocktail menu is curated by international mixologists, featuring a range of classics and Rock Bar specials. A crowd-favorite is the Rockatonic, a gin-based elixir that brings together fresh, fruity flavors, topped with a view of the Indian Ocean. They also offer an extensive selection of wines, beers, and non-alcoholic beverages.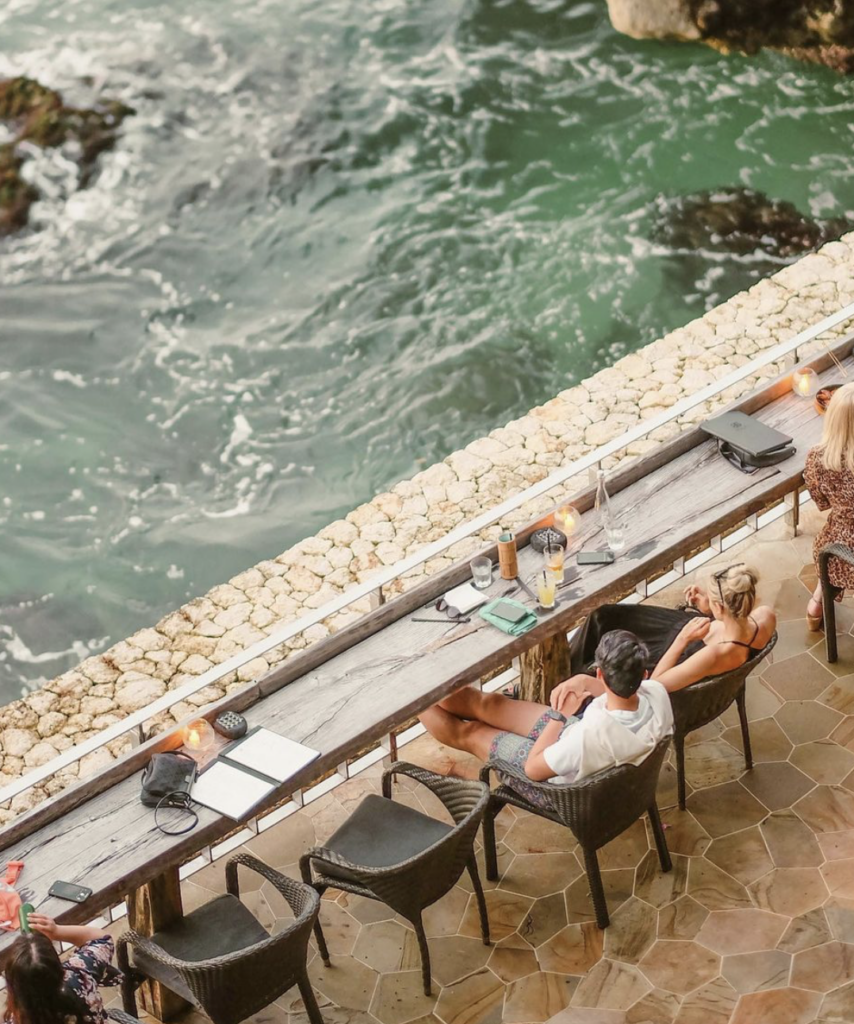 The Venue
The design is modern yet rustic, using natural elements like wood and stone to complement its cliff-side location. The bar area is centered around a dramatic natural rock that serves as a centerpiece, with seating available on the cliff-edge terraces or more secluded pavilions. For music aficionados, the venue regularly hosts top DJs to add a melodic backdrop to the natural symphony of waves.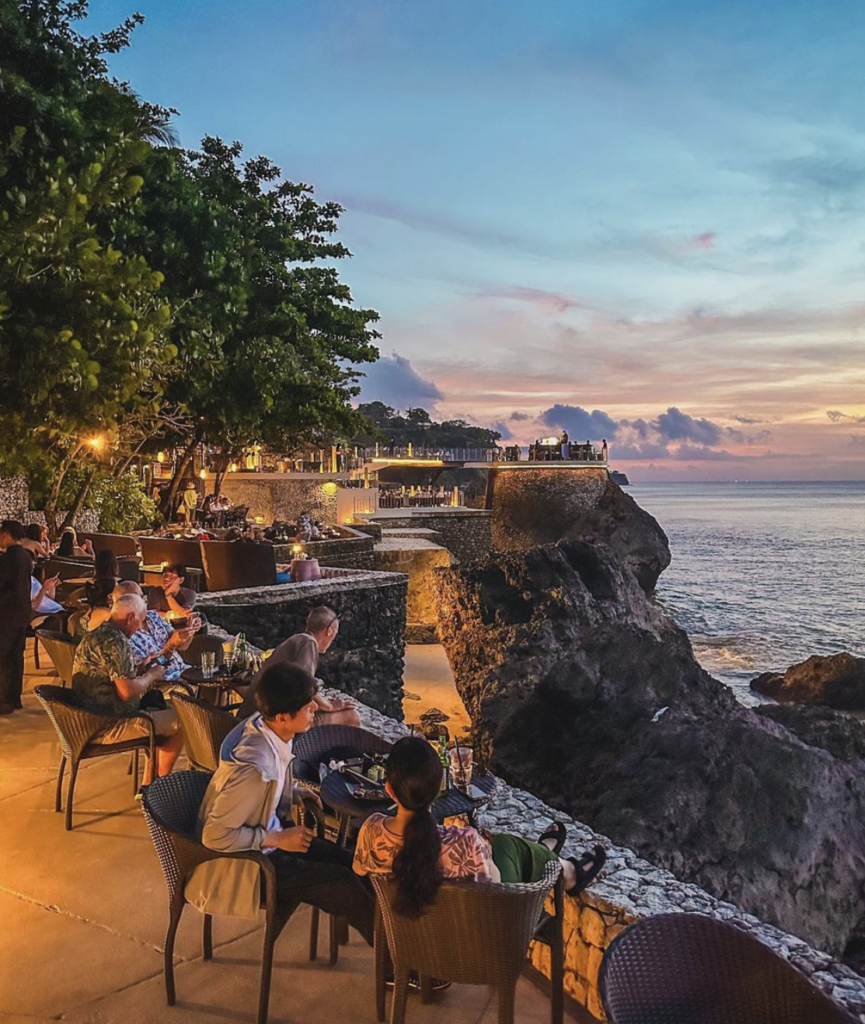 Service
The service at Rock Bar is as stellar as its views. Staff members are attentive, well-trained, and friendly. Due to its popularity, the bar often gets crowded, particularly around sunset. Despite this, the team manages to maintain a high level of service, ensuring a pleasant experience for all.
Price
Rock Bar is certainly on the pricier side, especially when compared to other local establishments. A cocktail can set you back anywhere from $15-$20 USD. However, you're not just paying for a drink; you're paying for an unparalleled experience, complete with a captivating view that's priceless – even for Bali.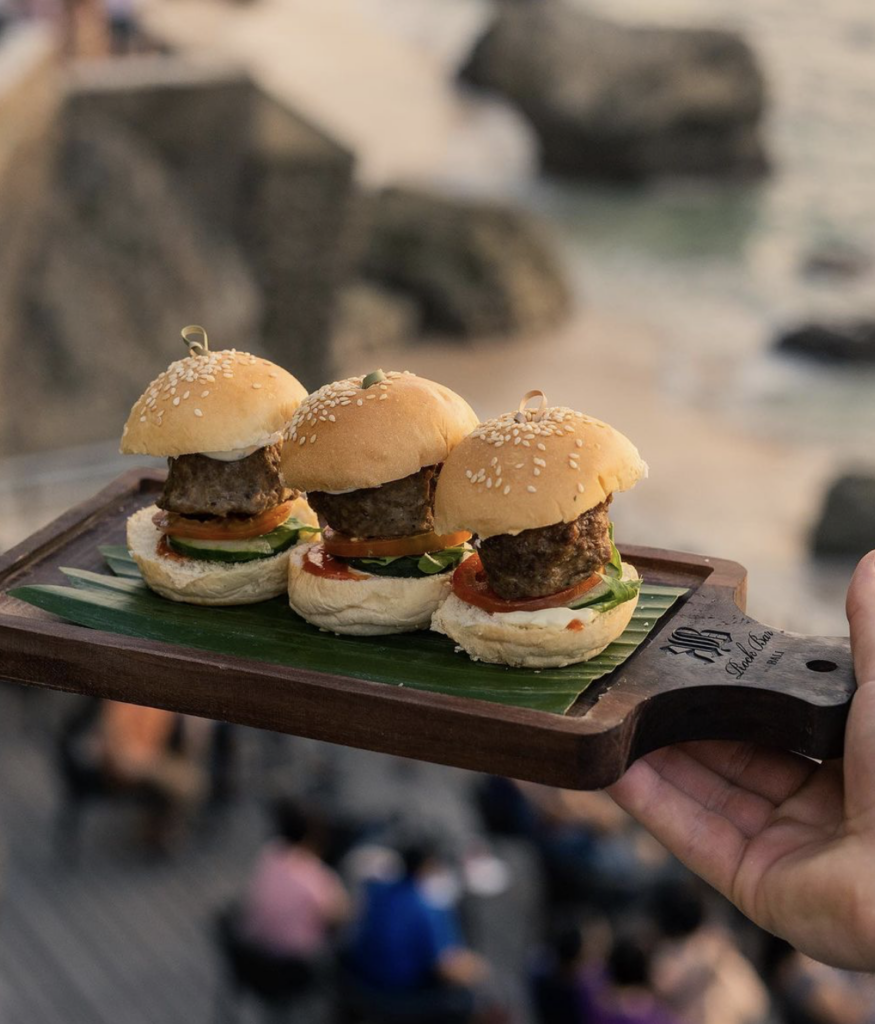 How to Get There From the Airport
The journey from Ngurah Rai International Airport to Rock Bar is about 12 km and usually takes around 30 minutes by taxi. You can find numerous taxi services at the airport, or arrange for a private car through the AYANA Resort. GPS is reliable for guiding you to this gem, but almost every local driver will know the way.
Compared to Other Top Bars in Bali
While Bali has a range of bars to explore from the laid-back beach bars of Seminyak to the party-focused clubs in Kuta, Rock Bar offers something unique. Its location and the natural setting is something that's hard to find elsewhere. The level of luxury and service is comparable to venues like Potato Head Beach Club or Ku De Ta – both of which are directly on the beach, but the dramatic cliffside locale sets it apart.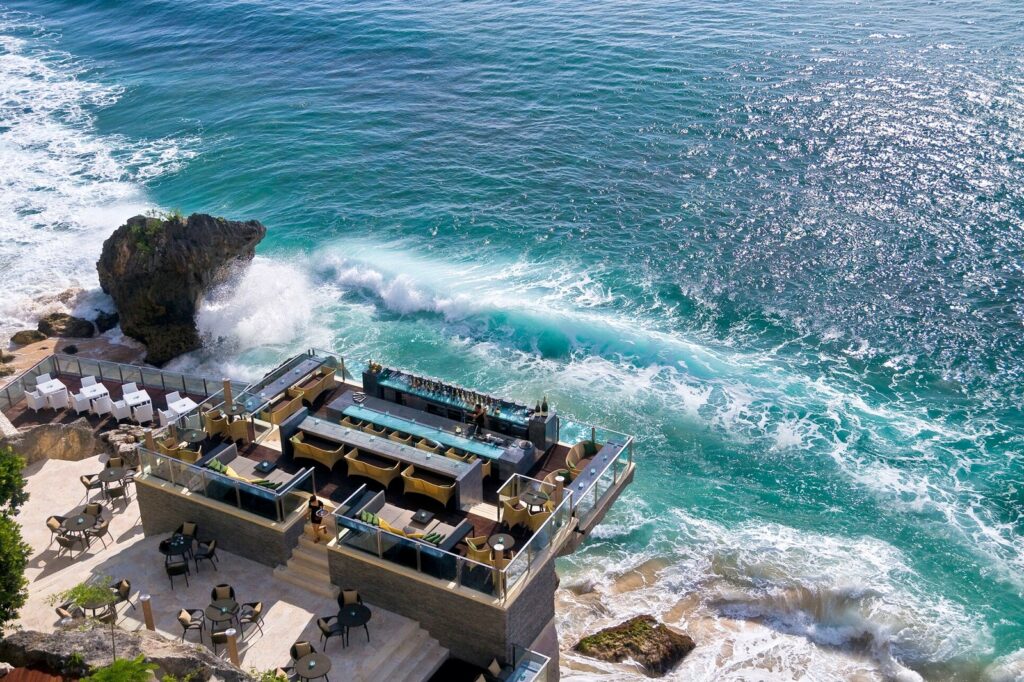 Conclusion
Rock Bar Bali is more than just a place to grab a cocktail. It's a venue that captures the essence of Bali — its beauty, its luxury, and its penchant for unforgettable experiences. Though your wallet may feel a bit lighter after a visit, your spirit will undoubtedly feel richer, not to mention your Instagram feed.
---