Backpacking Bali Guide
Of all the places I've been to, backpacking Bali, Indonesia, has carved a special place in my heart as one of the best destinations and experiences in the world.
Now, I know what you're thinking: "Bali? Really? Isn't that overrun with tourists?" Well, yes but even so it's truly a magical island that no other place in the world can match… Maybe that's why it's also now a digital nomad mecca and expat capital.
As a seasoned globetrotter, I've ventured far and wide, exploring the most remote corners of this beautiful planet and there's only place I've returned to repeatedly…
While Bali has become increasingly popular, it still remains a haven for backpackers seeking adventure, culture and affordability. Let me give you a taste of why this Indonesian gem is a budget traveler's dream.
Hostels and Guesthouses: Your Wallet's Best Friend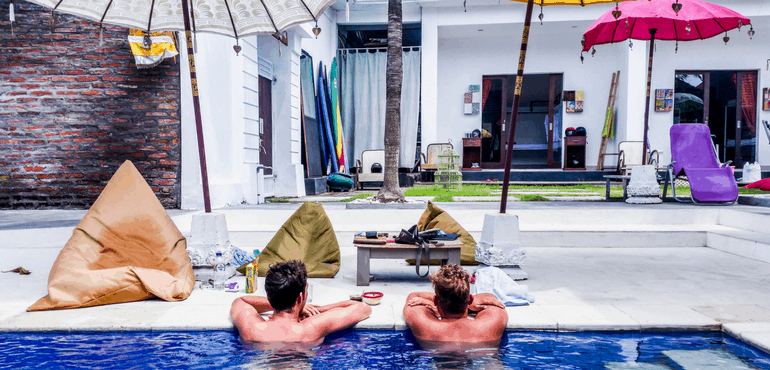 Accommodation in Bali is a backpacker's dream. There's a vast array of budget-friendly hostels and guesthouses that cater to every taste and preference. You can easily find a cozy bed in a dorm for as low as $5 per night. Looking for a private room? No problem! There's a plethora of affordable guesthouses from $15 a night ready to welcome you with open arms.
Food: A Culinary Adventure on a Shoestring Budget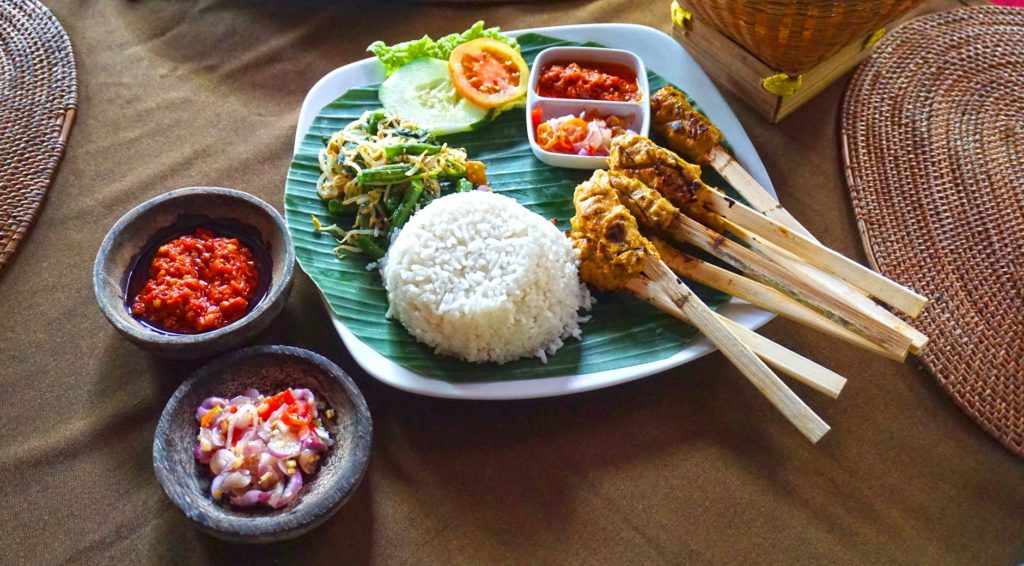 Bali offers a smorgasbord of culinary delights that won't break the bank. Indulge in mouthwatering local dishes like nasi goreng, satay and gado-gado at warungs (local eateries) for just a couple of dollars. And don't even get me started on the fresh fruit smoothie bowls! Even Bali's western food is exceptional but not expensive, like Canggu's Crate Cafe with the best breakfast experience in Asia. Bali is a foodie's paradise, where your taste buds and wallet can live in perfect harmony.
The Local People: Warm Hearts and Open Arms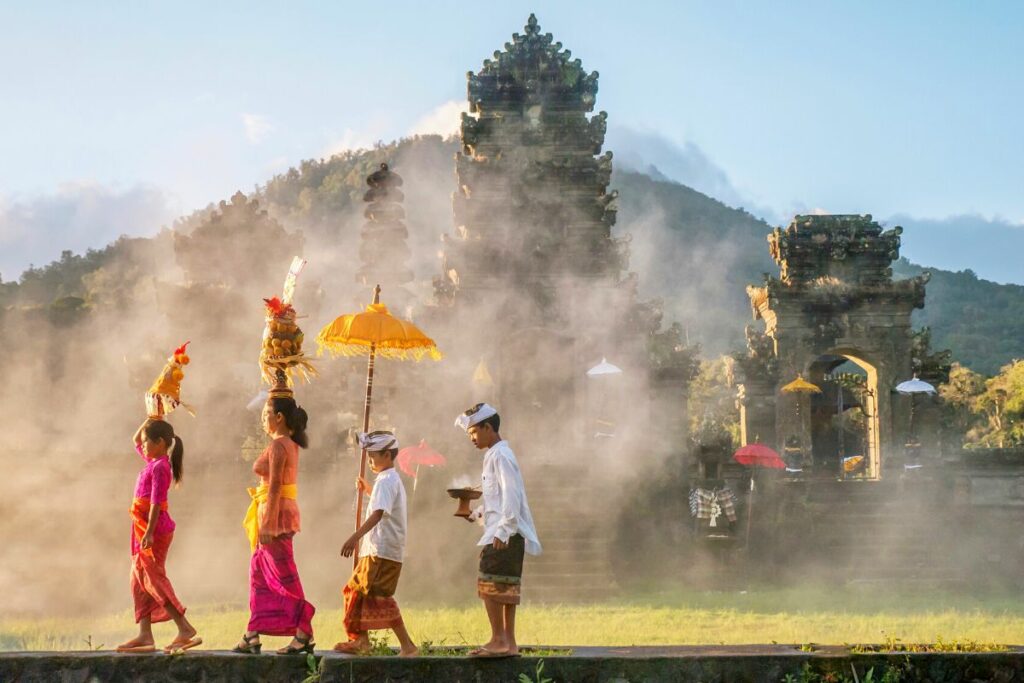 The Balinese people, not to be confused with the rest of the country's Indonesians, are renowned for their warmth and hospitality. As a backpacker, you'll find yourself welcomed into their homes and communities, often with the most generous and genuine smiles. Their kindness will leave an indelible mark on your heart and you might just find yourself with lifelong friends.
Nightlife: Party Like a Backpacker, Save Like a Local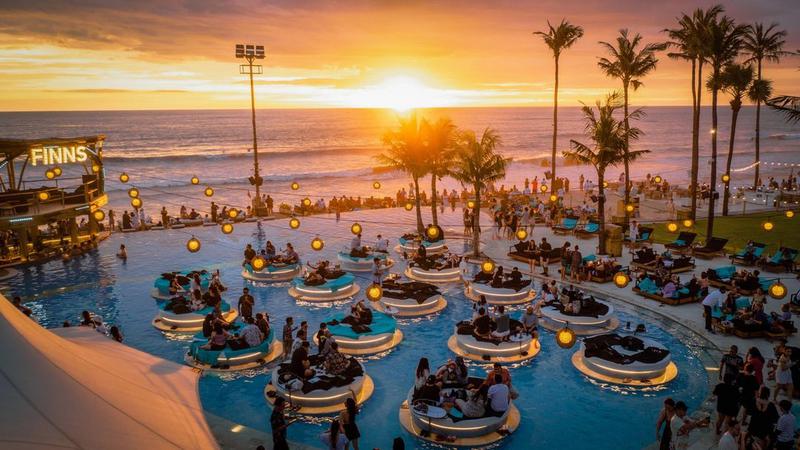 Bali's nightlife is as vibrant as its colorful sunsets, and there's no shortage of options for budget travelers. From beachside bonfires to bustling bars, you can find the perfect place to dance the night away without emptying your wallet. And with happy hour deals aplenty, you can sip on tropical cocktails while toasting to your budget-conscious adventures.
Attractions: Beauty and Adventure on a Budget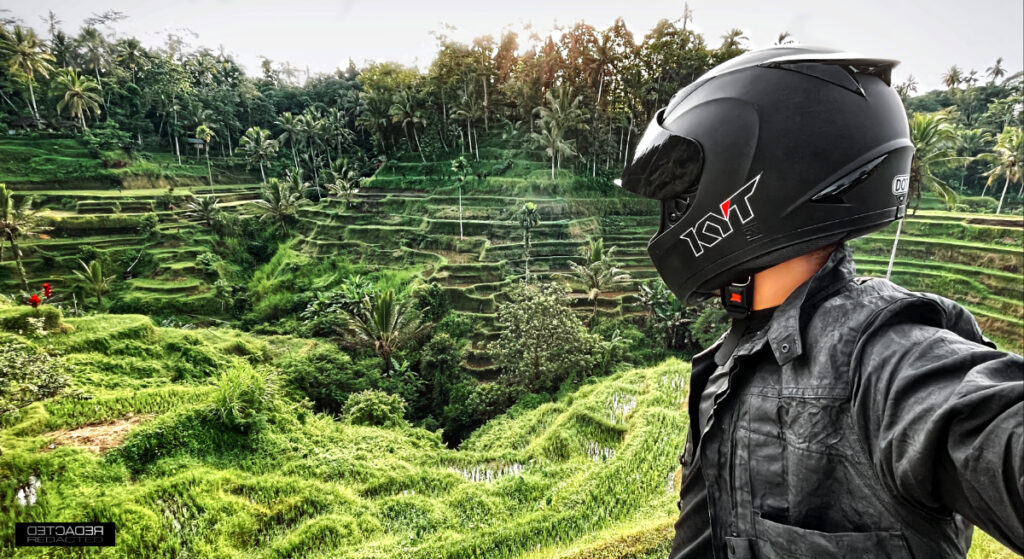 Bali is a backpacker's playground, with countless budget-friendly attractions to explore. Hike up Mount Batur to catch a breathtaking sunrise, or wander through the emerald rice terraces of Tegalalang. Take a dip in the sacred waters of Tirta Empul Temple or admire the ancient architecture of Ulun Danu Beratan. With such diverse and affordable attractions, there's never a dull moment in Bali.
Motorbiking: A Two-Wheeled Ticket to Freedom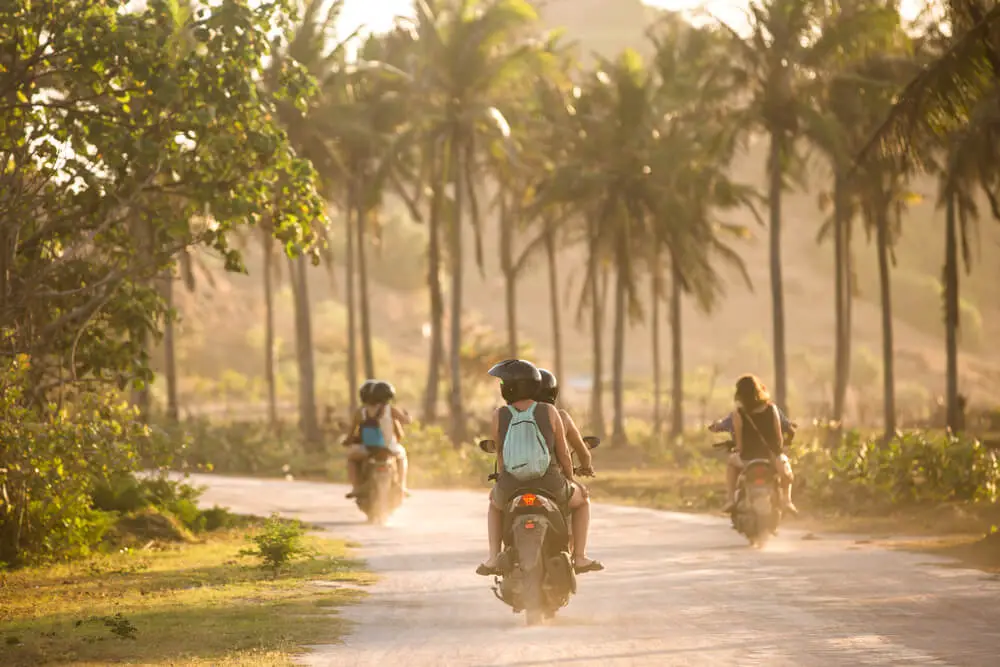 Renting a motorbike is the ultimate way to explore Bali on a budget. For just a few dollars a day, you can zip around the island, discovering hidden gems at your own pace. Feel the wind in your hair as you navigate winding roads, past lush jungles and stunning coastlines. Just remember to drive safely and wear a helmet!
Nusa Penida: A World of Wonders Just a Boat Ride Away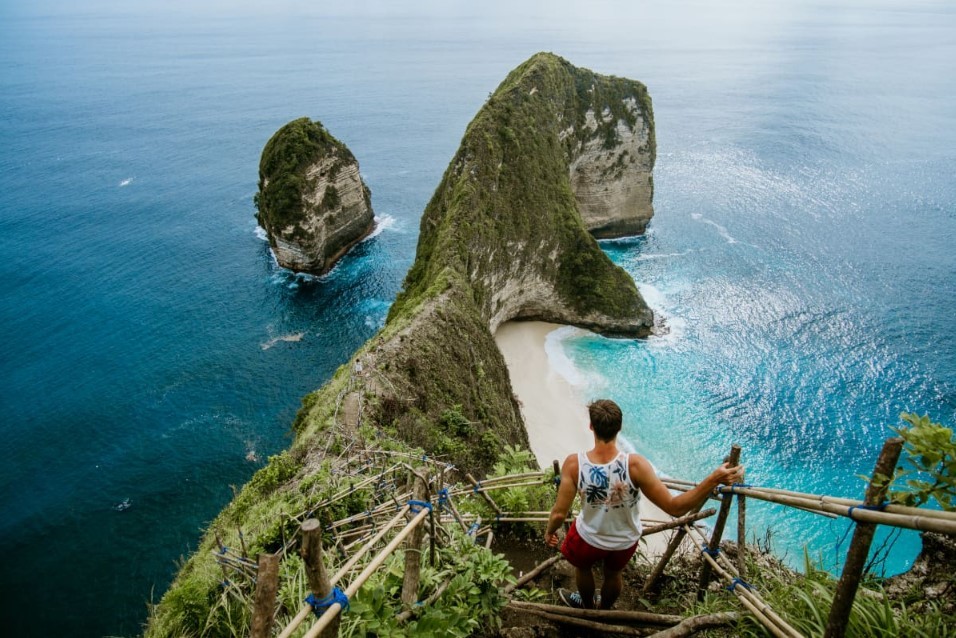 Don't forget to venture beyond Bali's shores and explore the enchanting island of Nusa Penida. Hop on a budget-friendly boat trip and discover a world of natural wonders. From the dramatic cliffs of Kelingking Beach to the crystal-clear waters of Angel's Billabong, Nusa Penida is a treasure trove of breathtaking beauty. With affordable tours and accommodation options, this slice of paradise is perfect for the budget-conscious backpacker.
Hiking Mount Batur: Rise and Shine, Adventure Awaits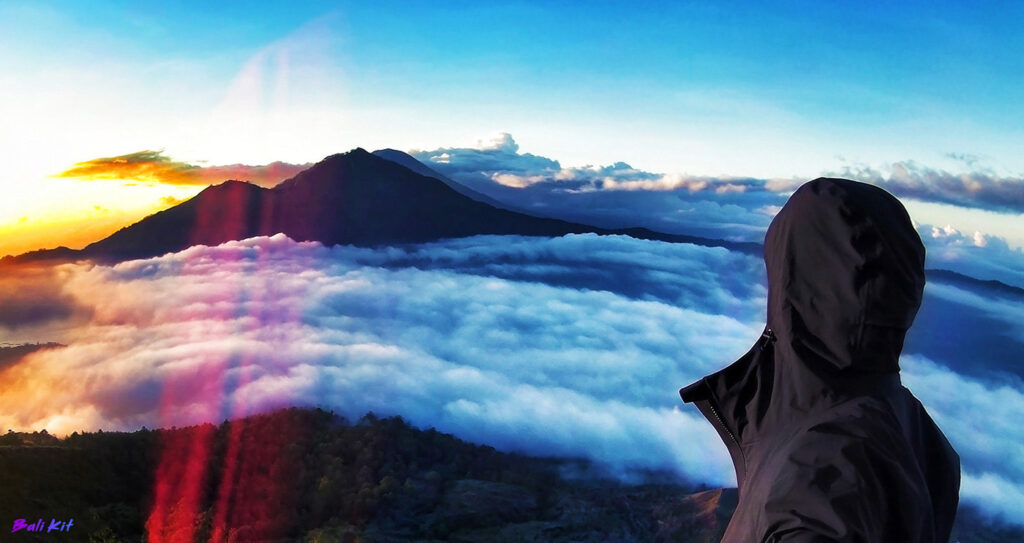 For those who love an invigorating hike, Mount Batur is a must-do in Bali. This active volcano offers a challenging yet rewarding trek, culminating in an awe-inspiring sunrise at the summit. Watching the first light of day illuminate the stunning landscape below is an unforgettable experience. What's more, joining a guided group tour is an affordable way to tackle this adventure safely and responsibly.
Coffee in Kintamani: Sipping on Bliss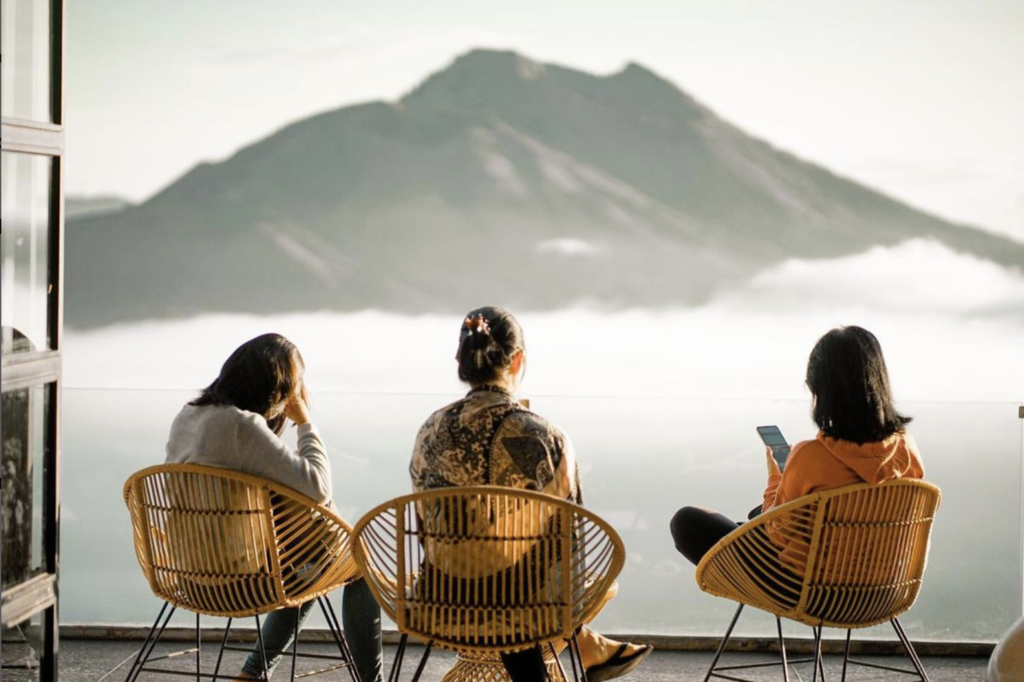 After hiking Mount Batur, why not unwind with a cup of coffee in Kintamani? This scenic village overlooks the magnificent Batur Lake and offers a range of quaint cafés perfect for savoring a cup of joe. Enjoy the crisp mountain air and take in the panoramic views while you indulge in the local coffee culture, all without breaking the bank.
Waterfalls Galore: A Refreshing Escape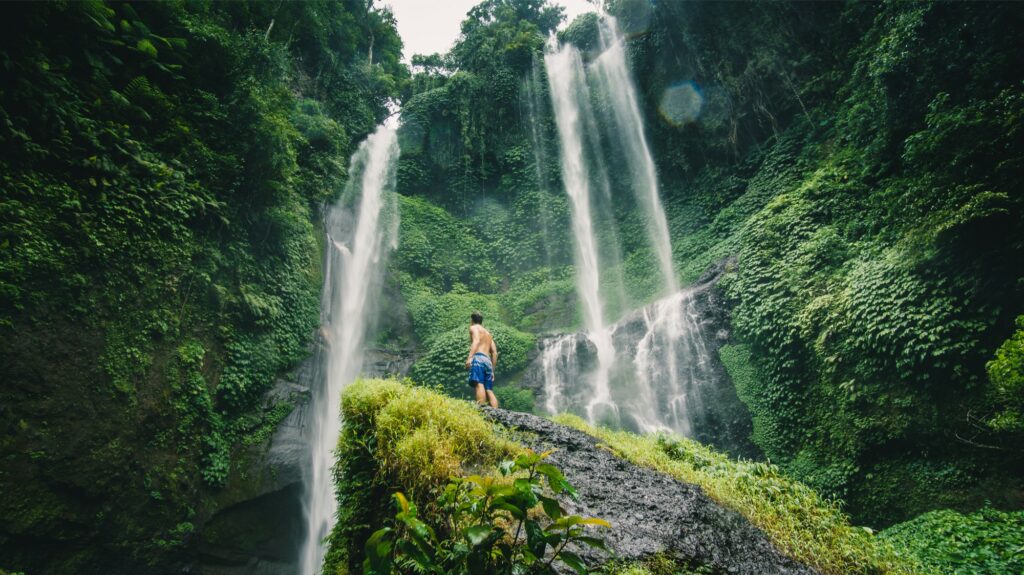 Bali is home to an abundance of mesmerizing waterfalls, each with its own unique charm. From the majestic Tegenungan Waterfall to the secluded Sekumpul Waterfalls, these natural wonders are accessible and affordable for backpackers. Many waterfalls can be visited on a self-guided day trip, allowing you to dive into Bali's enchanting beauty without diving into your savings.
Surf's Up in Uluwatu: Ride the Waves on a Budget

If you're a surfing enthusiast, Uluwatu is your paradise. Boasting world-class waves, this picturesque spot on Bali's Bukit Peninsula attracts surfers of all skill levels. With affordable board rentals and surf lessons available, you can catch a wave without catching a hefty bill. Plus, you'll be treated to stunning views of the famous Uluwatu Temple perched on a cliff above the ocean.
Shop 'Til You Drop in Seminyak: Bargains and Boutiques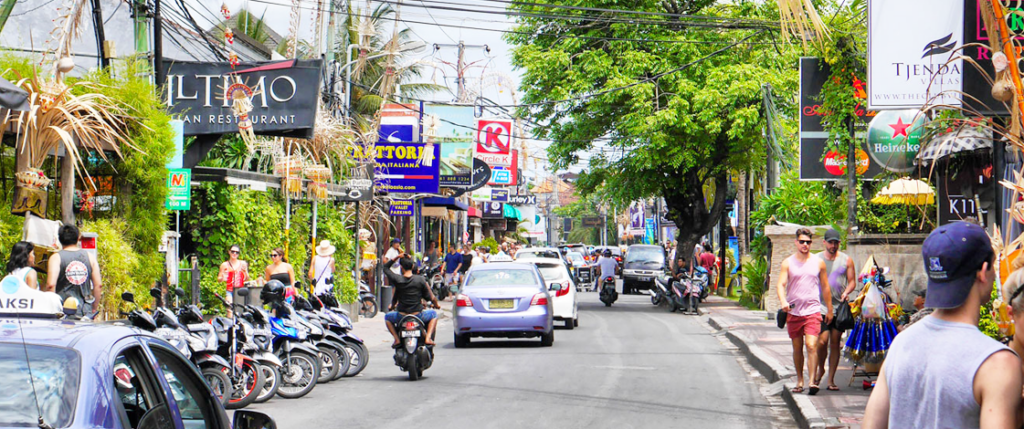 For those who love a good shopping spree, Seminyak is the place to be. This bustling area is home to a mix of boutique shops and local markets, offering everything from handmade crafts to trendy clothing. Put your bargaining skills to the test at the local markets, where you can score fantastic deals on unique souvenirs and artisan goods. It's a shopper's paradise that won't leave your wallet in despair.
Chill Out in Canggu: A Backpacker's Haven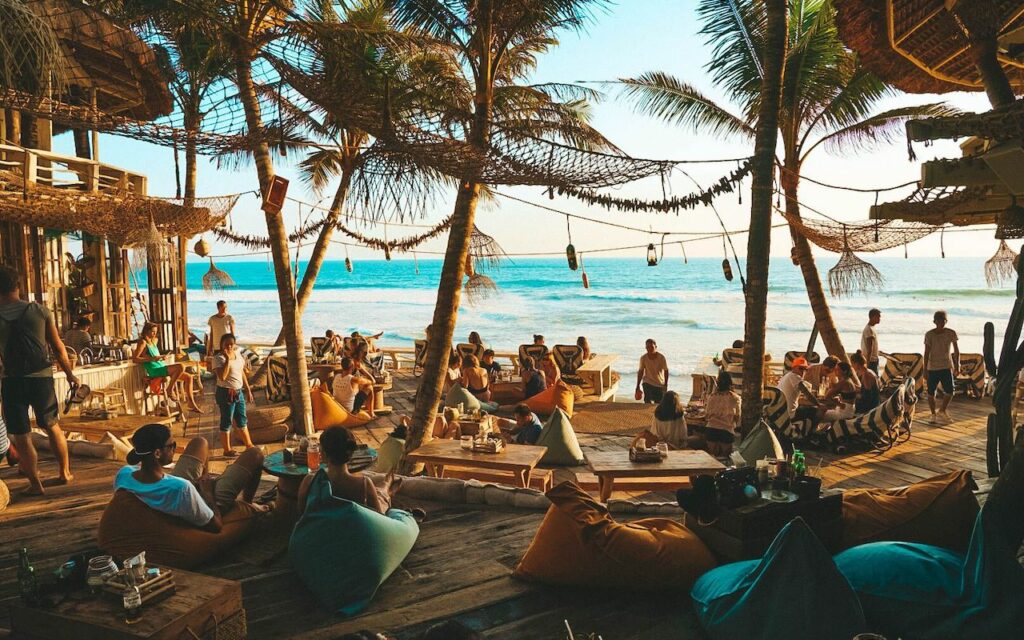 Last but certainly not least, let's talk about Canggu. This laid-back beach town has quickly become a backpacker hotspot, thanks to its relaxed vibe, budget-friendly accommodations, and vibrant café scene. Canggu is the perfect place to unwind after a day of exploring, as you sip on a fresh coconut or enjoy a yoga class without spending a fortune. With its eclectic mix of hipster hangouts and traditional charm, Canggu is the ultimate spot to kick back and soak up the best of Bali on a budget.
Diving in Amed: Unveiling the Depths of Bali's Underwater World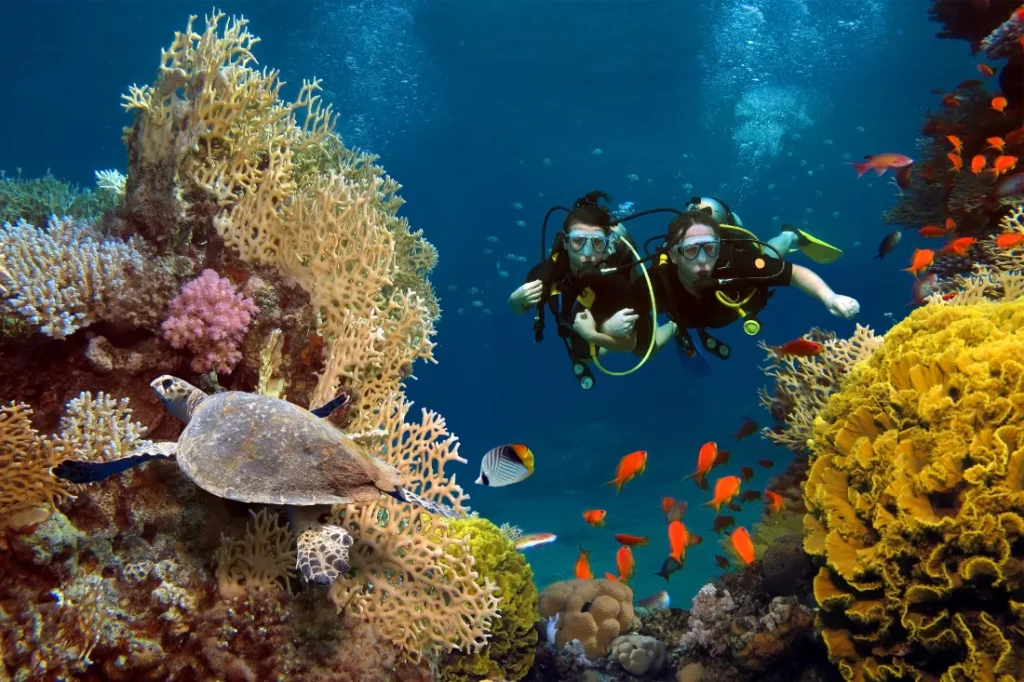 Amed, a quaint fishing village on Bali's eastern coast, is a diver's paradise. With its crystal-clear waters and abundant marine life, Amed is the perfect place to embark on an underwater adventure. The USS Liberty shipwreck in nearby Tulamben offers a fascinating dive site for all skill levels. Budget-friendly dive centers in Amed provide affordable packages, making this incredible experience accessible to backpackers eager to explore the deep blue sea.
Monkey Business in Ubud: Embrace Your Wild Side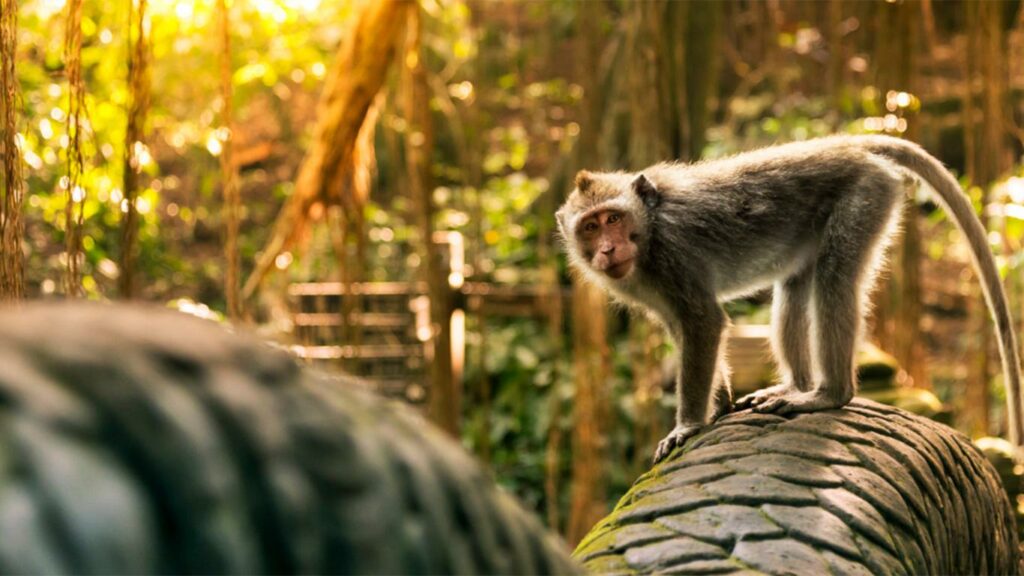 Ubud, Bali's cultural heart, offers a unique opportunity to get up close and personal with cheeky long-tailed macaques. The Sacred Monkey Forest Sanctuary, located in the heart of Ubud, is home to hundreds of these playful primates. For a small entrance fee, you can wander through the lush forest, marvel at ancient temples, and, of course, snap some unforgettable photos with your furry friends. Just remember to keep your belongings secure, as these mischievous monkeys are known to be quite the pickpockets!
Party the Night Away in Kuta: Dance 'Til Dawn on a Dime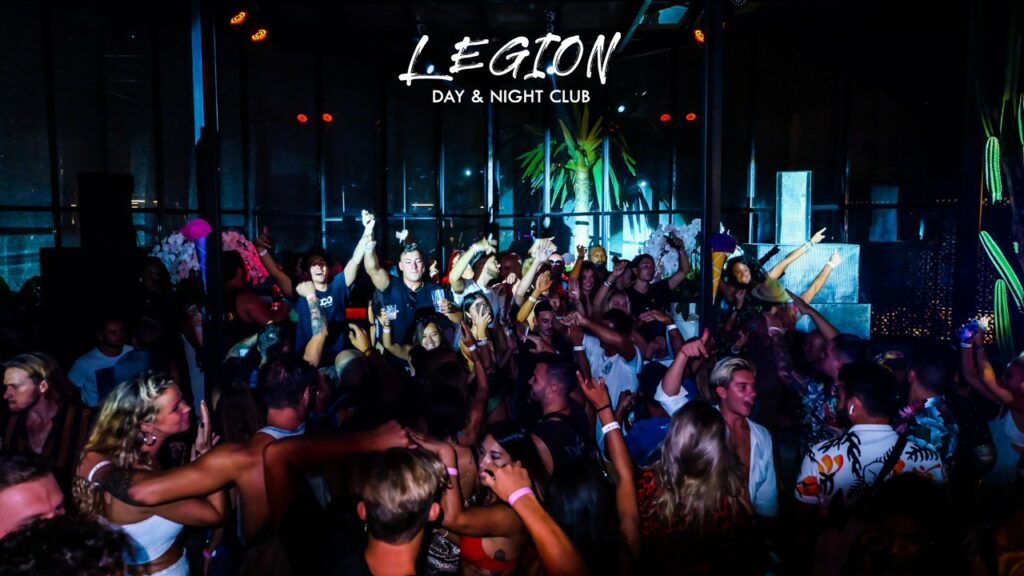 If there's one place in Bali that's synonymous with nightlife, it's Kuta. This bustling beach town is famous for its energetic party scene, attracting backpackers and revelers from around the globe. With an array of lively bars and clubs, Kuta offers endless opportunities to dance the night away without blowing your budget. Be sure to take advantage of the numerous happy hour deals and drink specials, ensuring a night of fun that's friendly to both your wallet and your dance moves.
Co-Working for Digital Nomads: Work, Play, and Stay Connected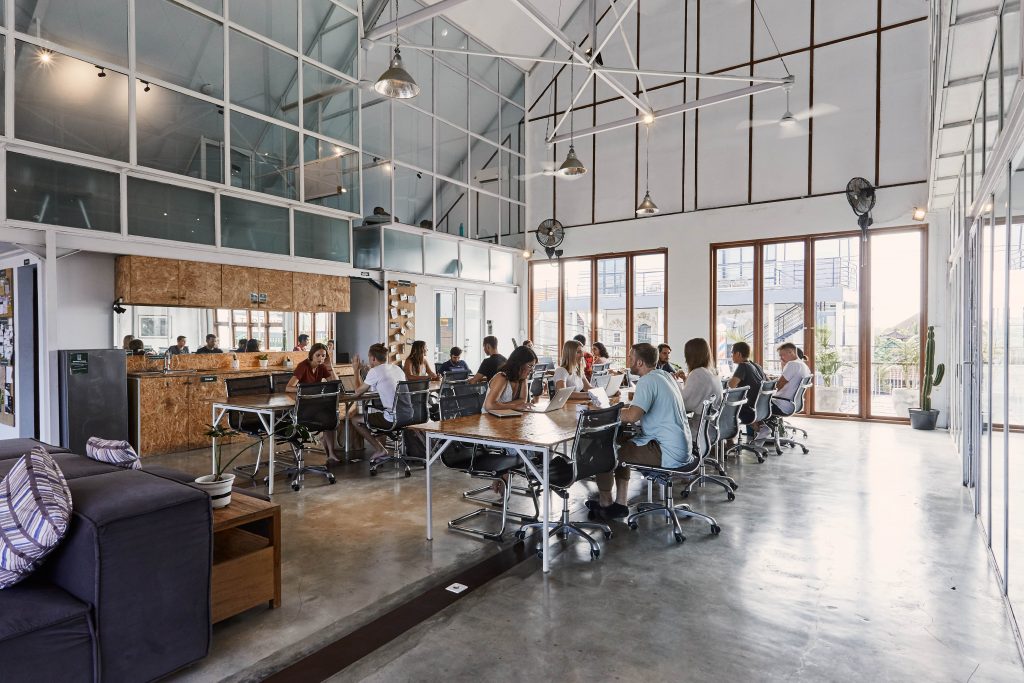 As a haven for digital nomads, Bali boasts an impressive selection of co-working spaces, perfect for those looking to combine work and play. Places like Dojo Bali and Outpost Canggu offer not only excellent work facilities, but also a strong sense of community and networking opportunities. With reliable Wi-Fi, comfortable workstations, and a vibrant community of like-minded individuals, these co-working hubs make it easy to stay productive while experiencing the magic of Bali.
Backpacking Bali is What Backpacking Was Made For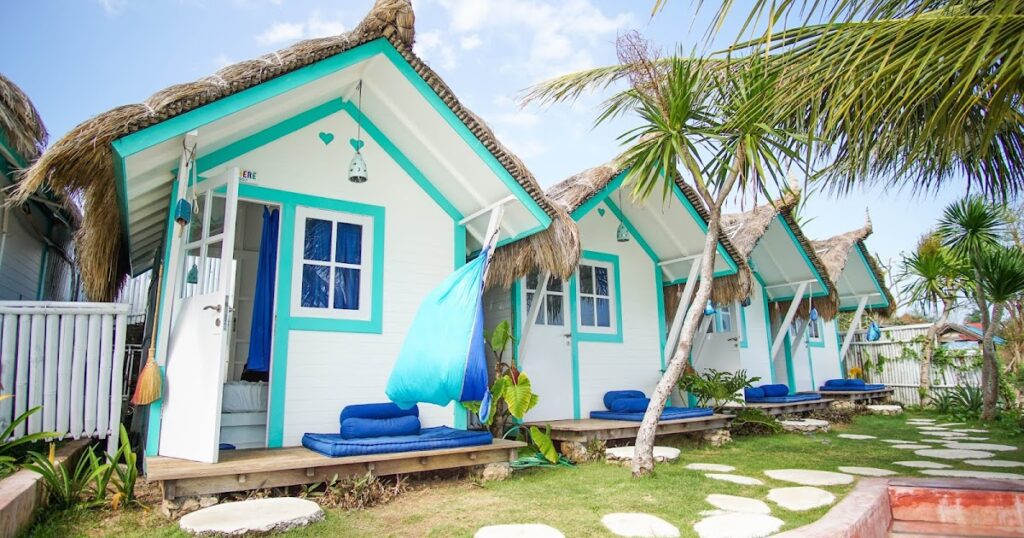 With its captivating beauty, friendly locals, and endless budget-friendly experiences, it's no wonder Bali has earned its spot as one of the best backpacking destinations in the world. This diverse and budget-friendly paradise is a backpacker's dream destination. With a little planning and a sense of adventure, you can create unforgettable memories in Bali without emptying your bank account.
So, fellow backpackers, pack your bags, grab your sunscreen, and prepare to be enchanted by the affordable allure of backpacking Bali. Trust me, you won't regret it.