Waterbom Bali Park
Waterbom Bali, nestled in the tropical paradise of Bali, Indonesia, stands as the #1 waterpark in Asia and 2nd in the world, effortlessly providing an unforgettable family experience of a lifetime.
This premier waterpark located in the heart of Kuta, a short drive from the airport and easily accessible from both Seminyak and Jimbaran. It's an oasis in the middle of the town, covering 38 thousand square meters of tropical gardens and pools​.
The park offers a diverse array of water attractions, from leisurely pools with mini slides for the young ones, to adrenaline-pumping high flying rides for thrill-seekers. Although the island of Bali has no shortage of beaches and pools, Waterbom is an excellent day adventure to take as both a visitor and resident.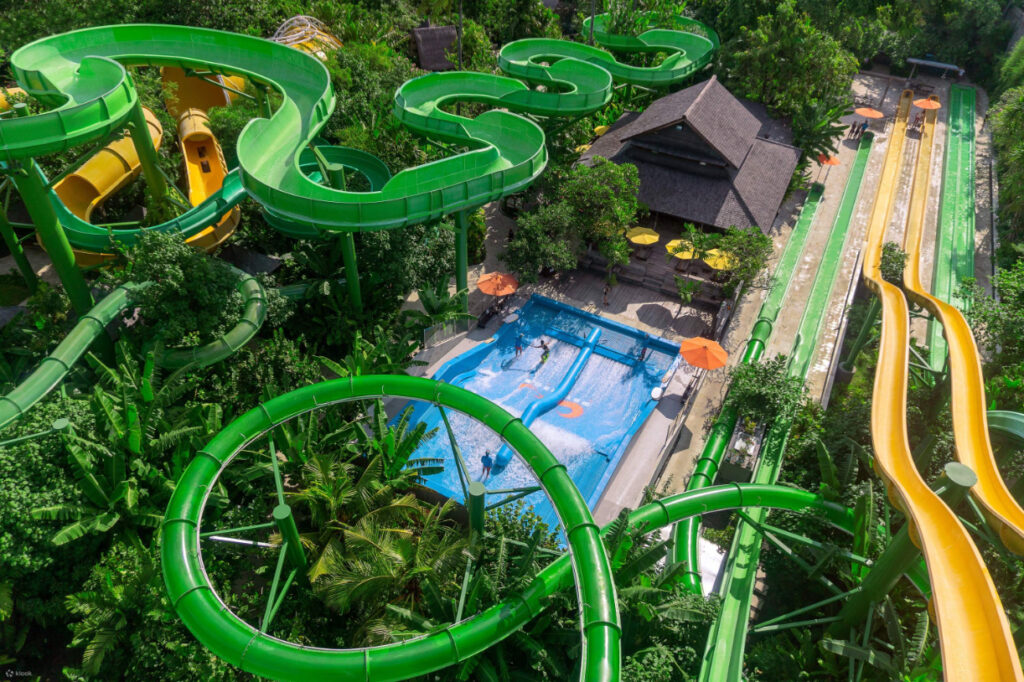 The Cost
The admission ticket to Waterbom Bali is priced at IDR 350,000 (approximately $23 USD) for children and IDR 450,000 for adults (approximately $30 USD), which allows entry to the park and full access to all the slides and pools for the entire day. Note that services such as hotel transfers, spa services, food and drinks, towel and locker hire, gazebos, Euro-Bungy, Water Blaster, and the FlowRider are not included in the ticket price.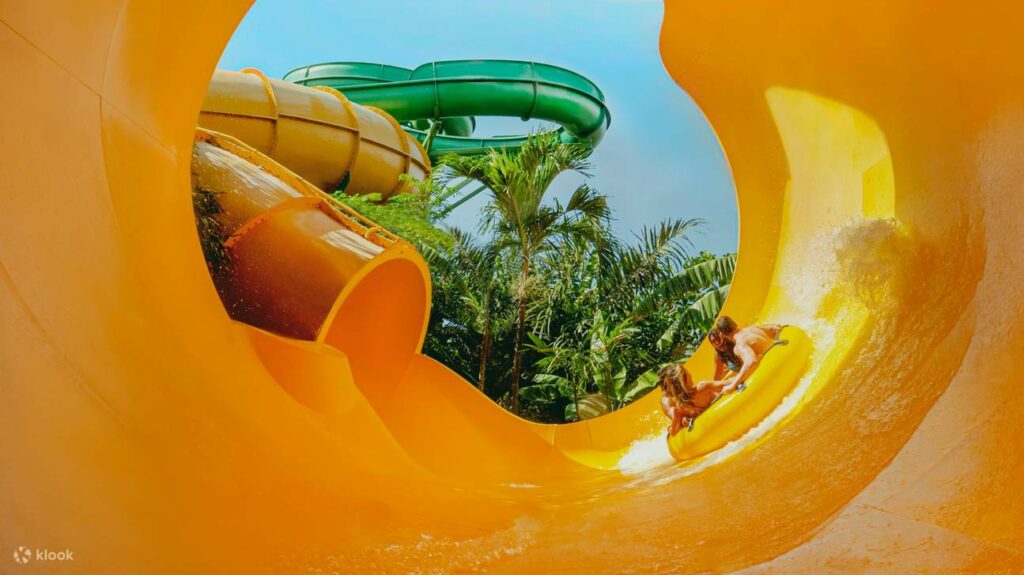 The Rides
Waterbom Bali boasts a range of world-class rides, each meticulously cleaned and checked before opening and closing to ensure optimal safety and fun.
Python & Green Vipers: The Python is a family ride accommodating up to 3-4 persons, offering a thrilling journey into temporary darkness and the largest waterslide at the park. The Green Vipers, on the other hand, is a solo ride taking you to even greater heights than the Python.
Smashdown 2.0 & Climax: These adrenaline-pumping rides are not for the faint-hearted. Smashdown 2.0 offers a freefall from a height of 26 meters, while the Climax, though 'only' 16 meters high, offers a more vertical drop with an unexpected twist at the end.
Boomerang: This favorite ride starts with a 20-meter drop, whisking you up the other side of the pipe-wall, and rocking you back to the calming pool in a thrilling experience.
Flow Rider: For extreme surfing enthusiasts, the Flow Rider offers a challenging yet satisfying experience, complete with a professional coach and extra safety features.
Constrictor & Superbowl: If you're looking for something a bit more relaxing, the Constrictor and Superbowl rides are perfect, offering a pleasant experience for families.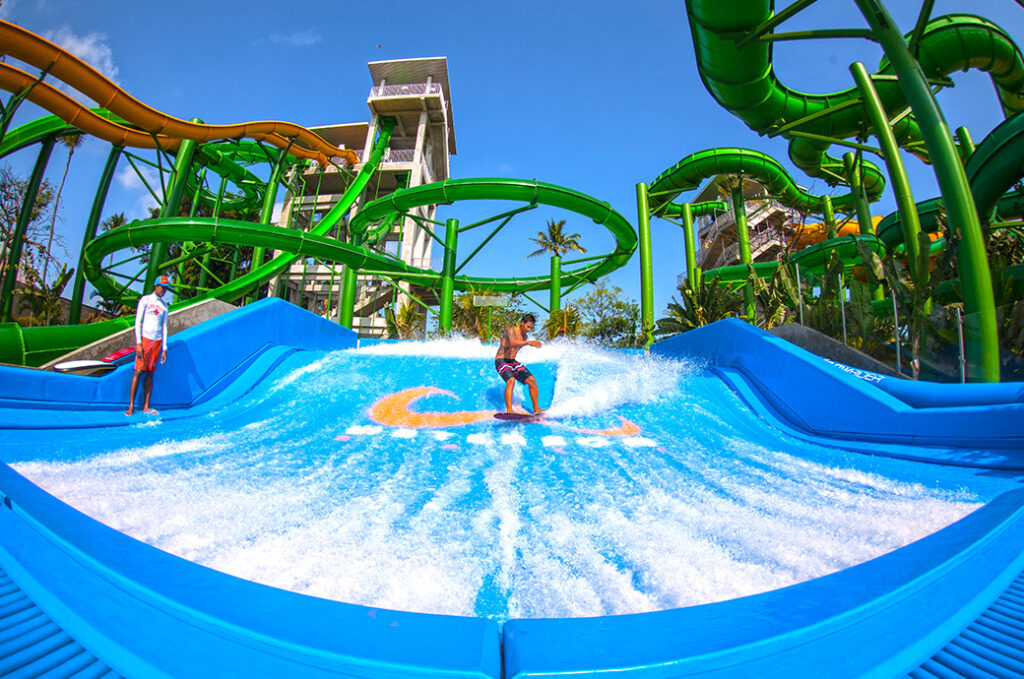 The Design
Waterbom Bali is designed to shatter general conceptions of a water park, offering lush greenery, extensive culinary options, and exceptional service from staff. It is an inclusive water park that offers an elevated experience for every family member. The design of Waterbom incorporates lush green spaces, accounting for more than 50% of the park's area. It also boasts a commitment to eco-friendliness, having implemented practices to reduce waste production and water and energy use, and has been certified as carbon neutral​.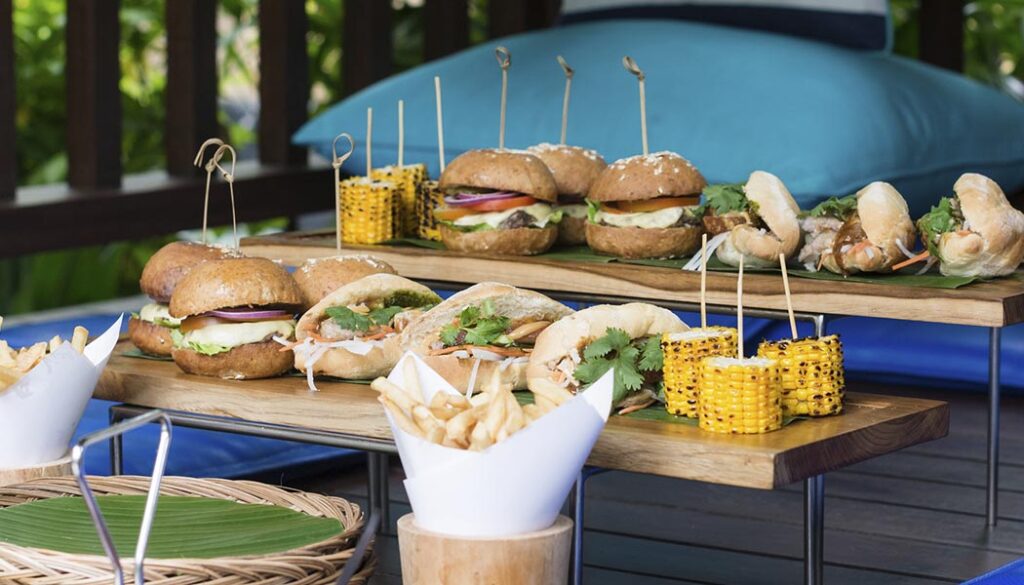 The Food
The food at Waterbom is a surprising delight. It breaks the stereotype of typical amusement park fare by offering a variety of dishes that are 90% locally sourced. You can indulge in Waterbom's famous tacos, the flavorful Kang Kiew Waan, the classic Bakmi Goreng, mouthwatering short ribs, the crowd-favorite Bom Burger, or even a simple but delicious Asian Roast Beef Sandwich​.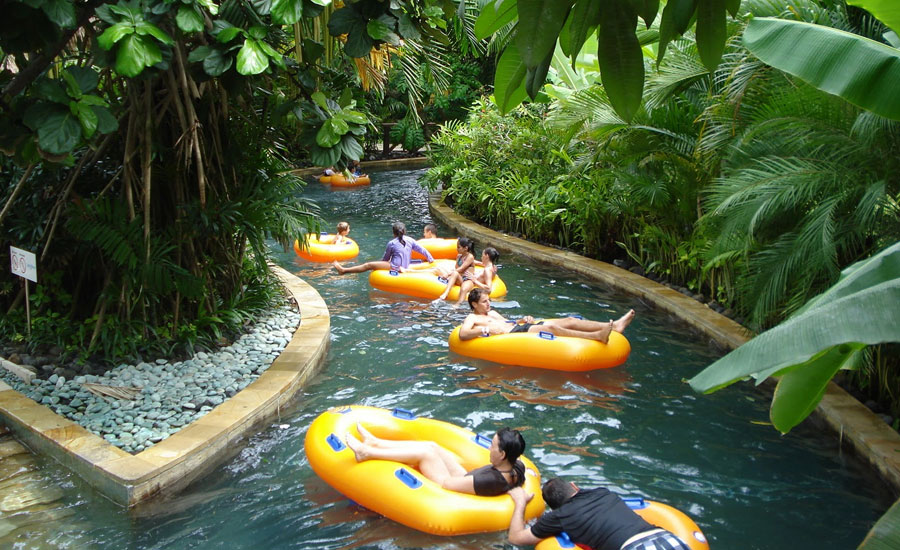 The Staff
The staff at Waterbom Bali are known for their genuine smiles and warm service, contributing to the overall fantastic and relaxing experience at the park. They also try to keep things safe but without killing the vibe, a welcome measure for a potentially dangerous place that any waterpark entails.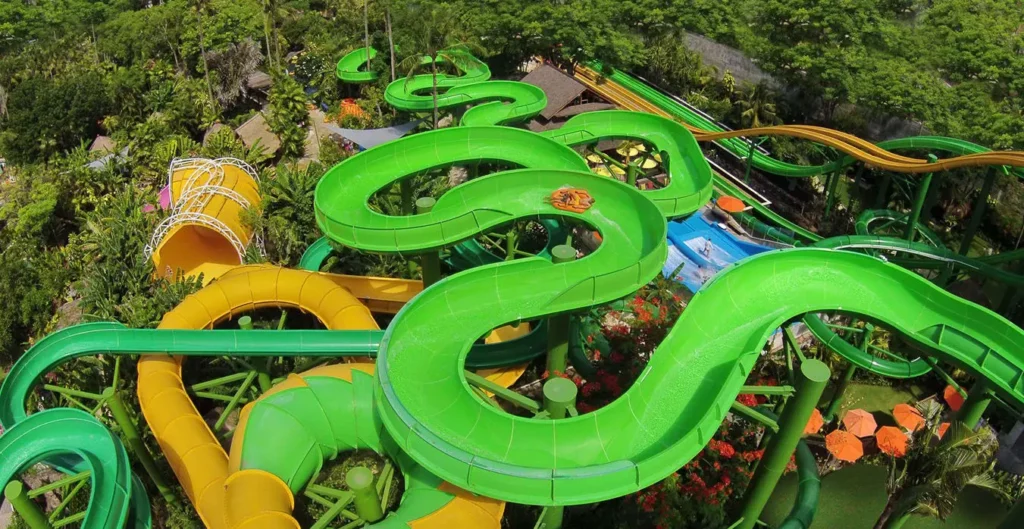 The Overall Experience
From the exhilarating rides to the relaxing amenities and the warm hospitality, Waterbom Bali ensures an unforgettable water park experience. The park is a must-visit for families, friends and couples visiting Bali and is renowned for its world-class rides and excellent maintenance. Unlike most other waterparks of this magnitude, it's located in about as central a location as possible, like NY's Central Park, making even the logistics of getting there and getting back a pleasure. You can even tour and shop around just outside of the park.
The Other Waterparks
Comparing Waterbom to other water parks in Asia, it was rated Asia's #1 water park by Trip Advisor in 2018 Traveler's Choice Awards. This is a testament to its high-quality attractions, facilities, and commitment to customer satisfaction​. How fun each slide and ride is subjective but one thing I noticed about Waterbom is its cleanliness, everything from the bathrooms to the ground to the changing rooms were the cleanest I've seen of any waterpark.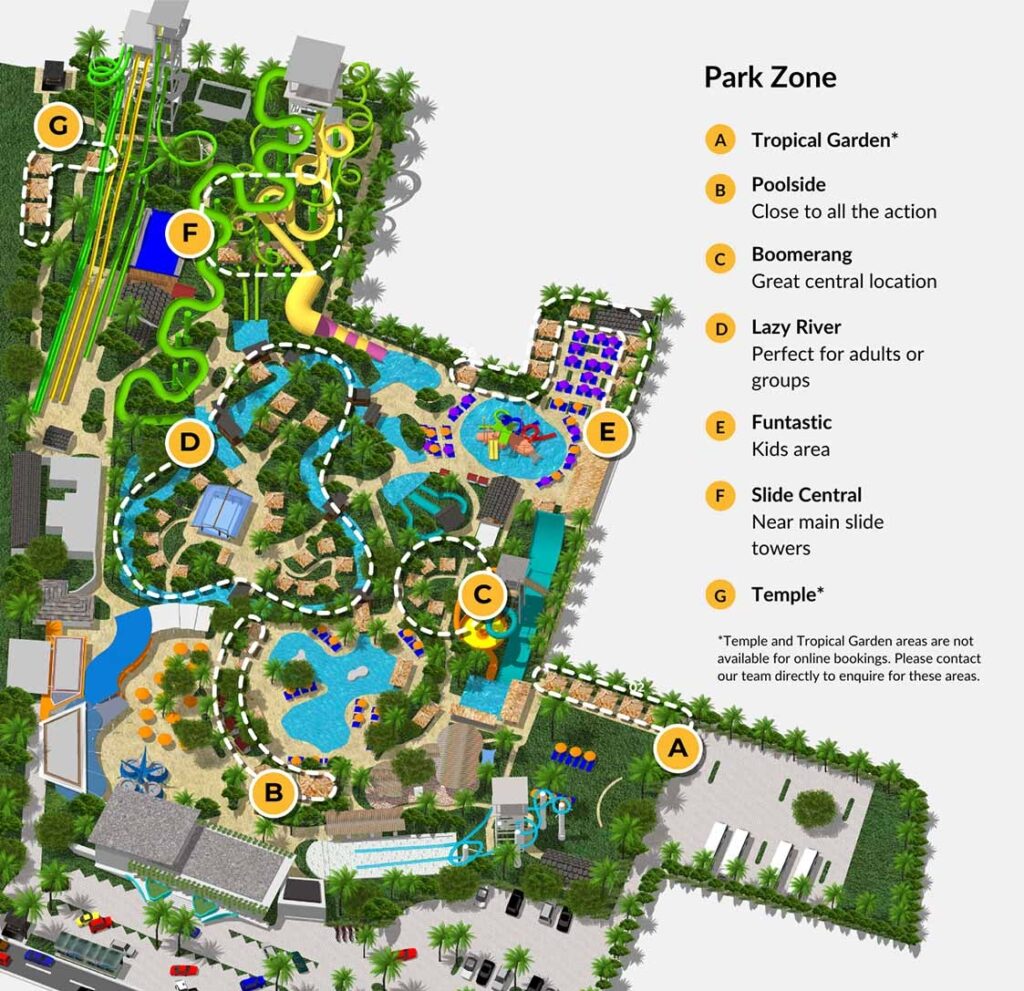 In review, Waterbom Bali offers a thrilling and refreshing escape for families, thrill-seekers, and even those who just wish to relax amidst beautiful tropical gardens. Its commitment to sustainability and the quality of its attractions set it apart from other waterparks in Asia.
---