Suluban Beach (Blue Point) in Uluwatu: Guide
Suluban Blue Point Beach is not just another beach on the island of Bali. Often whispered among expats and well-informed tourists.
This gem is a testament to the fact that Bali still harbors secrets, waiting to be unveiled by the ardent traveler. Undoubtedly, it's one of the world's most captivating beaches, and here's why.
Revered for its unique coastal structure and breathtaking beauty, Suluban Blue Point Beach in Bali remains a testimony to the island's diverse and stunning natural landscapes.
The name 'Suluban' is derived from the Balinese term for "to walk or pass under something," which alludes to the cave that beachgoers traverse to reach this secluded paradise.It's not just the azure waters and white sands that captivate. The colossal limestone formations, sheltering caves, and cliff-top views make it one of the world's most exceptional beaches.
Location & How to Get There
Suluban Blue Point Beach is tucked away in Uluwatu, which is on the southern tip of Bali. Uluwatu itself is famed for its cliff-hanging temple and impressive ocean vistas.
From the Airport:
By Taxi or Ride-Share: The beach is roughly 45 minutes to an hour's drive from Ngurah Rai International Airport. Taxis and ride-sharing apps are available, but it's always a good idea to fix the fare before the journey.
By Rental Car: If you're an adventurer at heart and familiar with Bali's roads, renting a car is an excellent option. It gives you the freedom to explore at your own pace.
By Scooter: For the bold traveler, scooters are a favorite way to traverse Bali. However, ensure you're comfortable with the traffic and have a valid international driving license.
Entrance Fee
While the beach itself doesn't levy any charges, the parking area nearby has a small fee, usually ranging from IDR 5,000 to IDR 15,000, depending on your mode of transportation.
The Beach in Detail
Once you descend the series of steps leading to the beach, you'll witness a panorama that seems straight out of a dream.
Caves: The beachfront is dotted with caves, a delight for explorers and those seeking a shaded respite.
Cliff Views: For the best views, climb up to the cliff-tops. The sight of the sprawling ocean against the rugged coastline is surreal.
Surf's Up: Known for its challenging waves, Suluban Beach is a surfer's haven. However, beginners should be cautious due to the strong currents.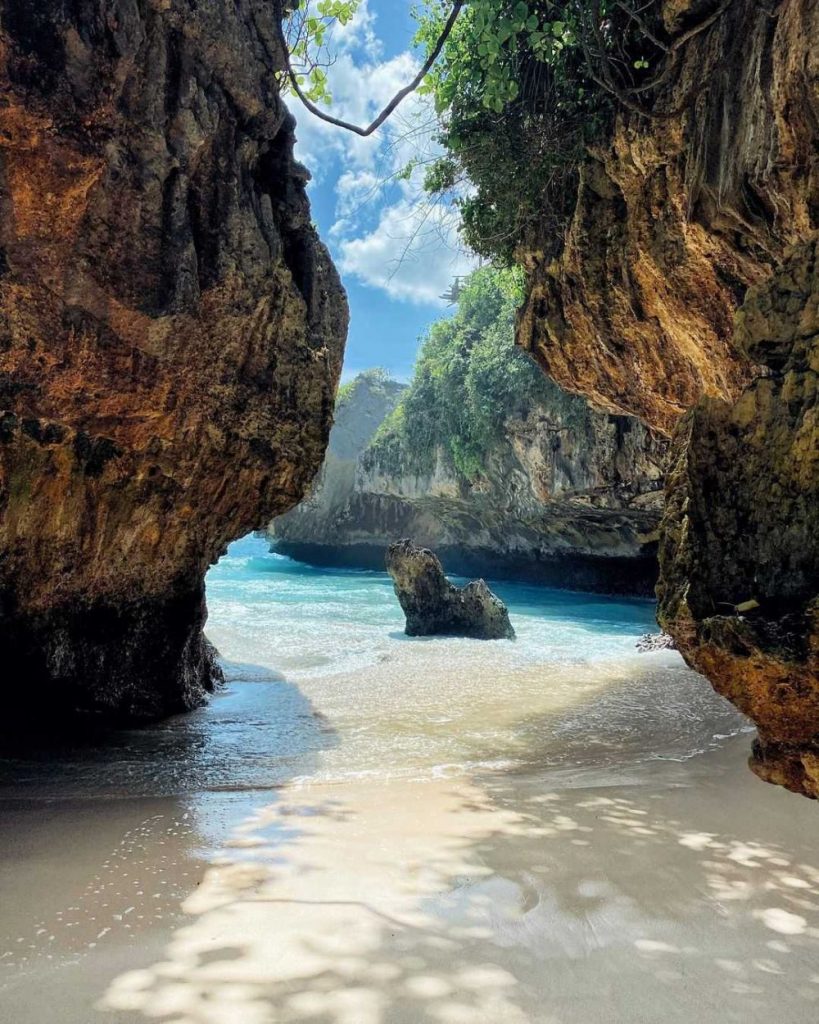 Activities:
Surfing: The primary draw of Suluban Beach. Whether you're an expert or a newbie, the waves here have something for everyone. Surfboard rentals and lessons are available on-site.
Cave Explorations: The caves are an integral part of Suluban's charm. Roam around, find a secluded spot, or simply marvel at the natural architecture.
Sunset Viewing: Uluwatu sunsets are legendary. Stake out a prime spot on the beach or cliffs and let the mesmerizing hues of the horizon take you in.
Dining: There are several warungs (local eateries) and cafes perched on the cliffs, offering a range of local and international cuisines. Enjoy your meal with an uninterrupted view of the ocean.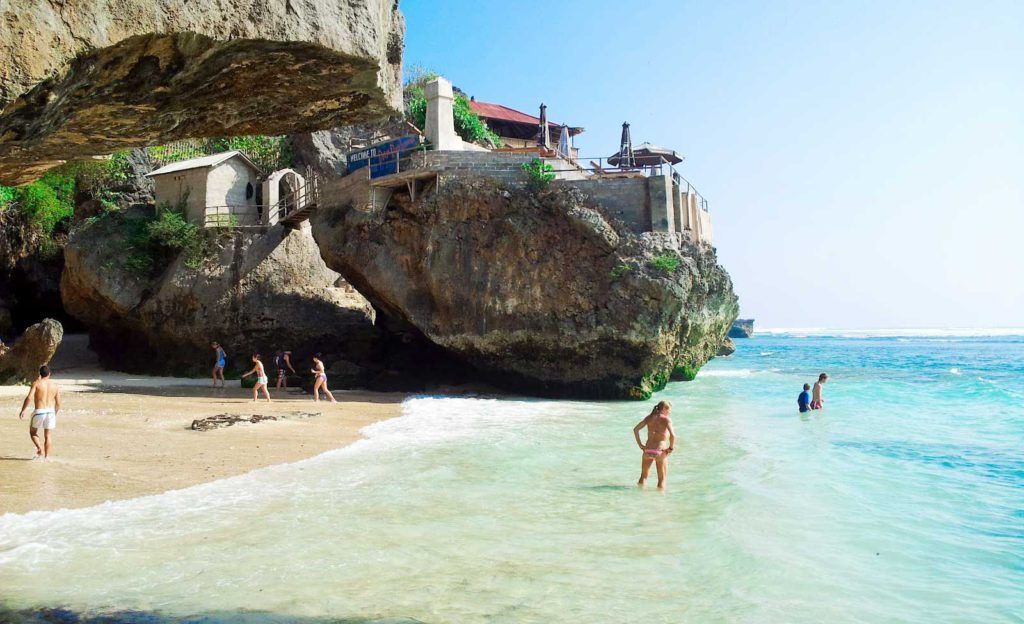 Additional Tips:
Footwear: Opt for sturdy sandals or shoes. The descent to the beach can be steep and uneven in places.
Tide Times: Check the tide timings. During high tide, the beach might be mostly submerged.
Respect Local Customs: As with all places in Bali, it's essential to be respectful. Dress modestly when not on the beach and be aware of local traditions.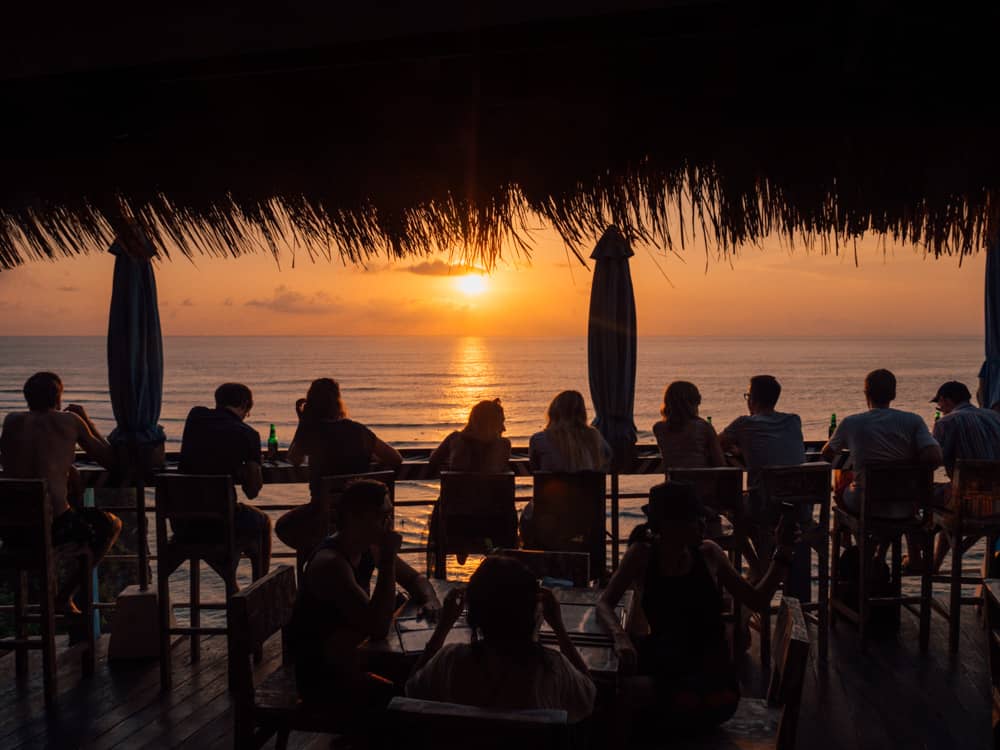 Suluban Blue Point Beach is a testament to Bali's undying allure. With its unique topography, mesmerizing views, and distinct charm, it stands out as not just one of Bali's but the world's most fascinating beaches.
It's a place where nature's artistry is on full display, and every visit feels like the first. As an expat who has witnessed Bali's many facets, this beach remains a cherished slice of paradise.
---