The Gili Islands: Guide
As an expat living in Bali, I've had the pleasure of exploring many of Indonesia's hidden gems beyond Bali, and among the most captivating are the Gili Islands.
This stunning archipelago, situated off the northwest coast of Lombok, is a tropical haven that boasts pristine beaches, vibrant marine life, and a laid-back island vibe.
The Gili Islands are made up of three main isles: Gili Trawangan, Gili Meno, and Gili Air, each with its distinct charm and allure to cater to different travelers' preferences. . In this guide, I'll take you on a virtual tour of these three tropical paradises and help you decide which island is best suited for your dream vacation.
Lombok, though less developed than Bali, attracts adventure-seekers with its pristine beaches, waterfalls, and the magnificent Mount Rinjani volcano. Bali, the most developed and tourist-heavy destination, is famous for its vibrant culture, beautiful landscapes, beaches, and numerous temples, catering to travelers with varying budgets and preferences.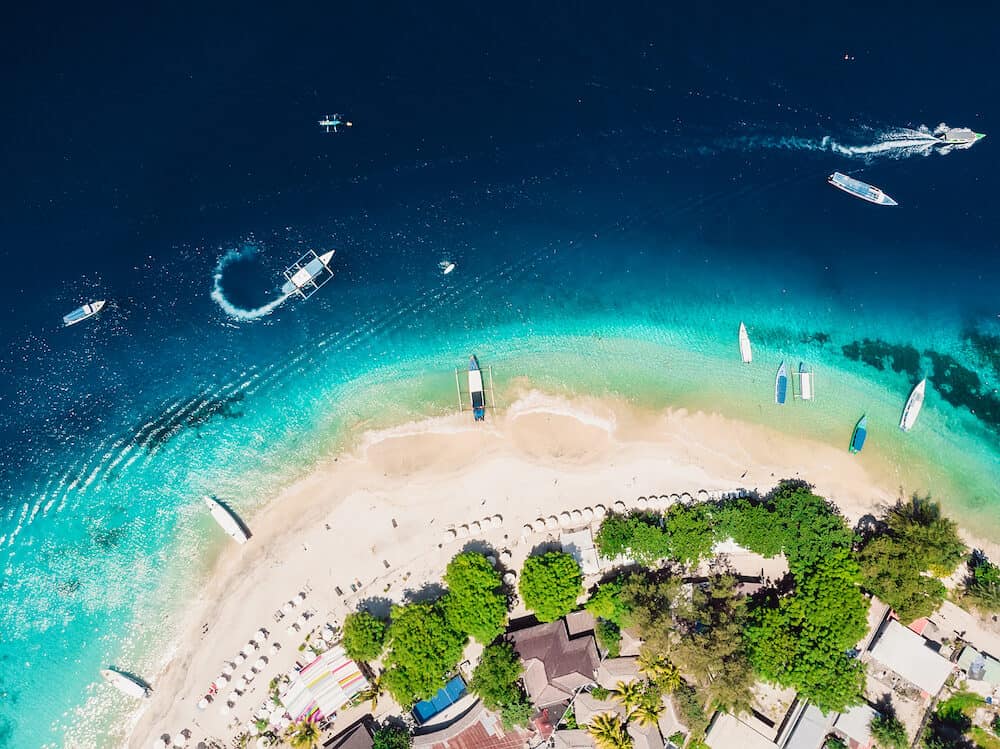 The Gili Islands are known for their relaxed, laid-back atmosphere, with no cars or motorbikes allowed – transportation within the islands are done by horse and the occasional electric bike. Ideal for beach vacations, the islands offer snorkeling, scuba diving, and beach lounging opportunities. All the places just discussed are tropical islands but only the Gili's are truly paradise islands.
Easily accessible from Bali or Lombok (mainlands), these tropical paradises provide the perfect setting for relaxation, adventure, and exploration. The islands boast crystal-clear waters ideal for diving and snorkeling, while the picturesque white-sand beaches and swaying palm trees create an idyllic ambiance for a dream vacation. Then there's the wild party nightlife if you'd prefer, of which is totally and easily avoidable and go for quiet romantic endeavors instead.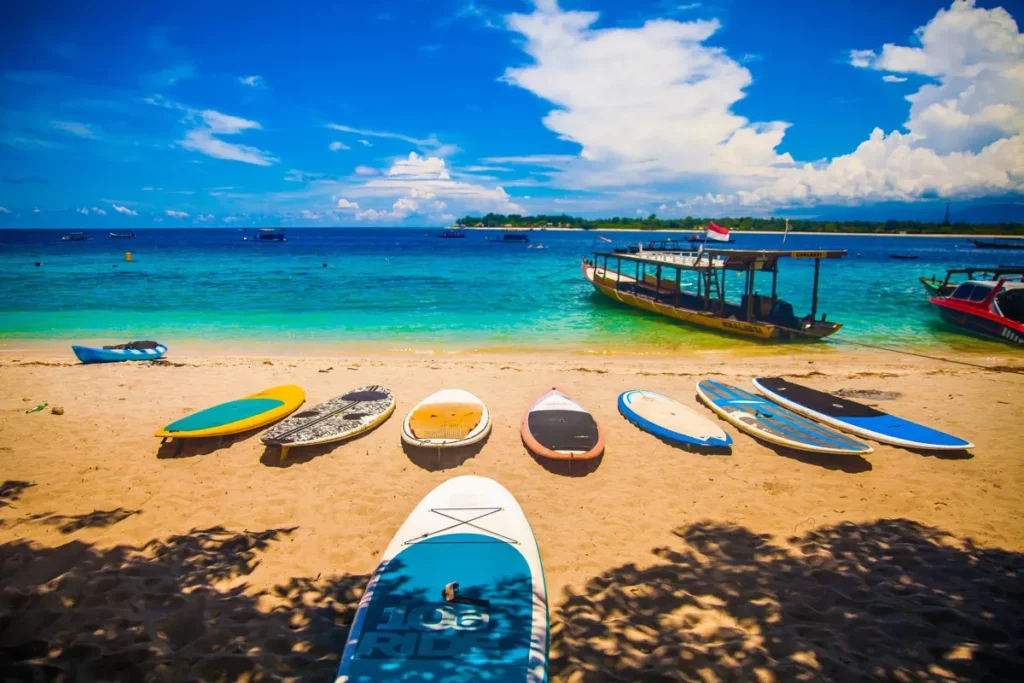 When to go to The Gili's
The "best" time to visit the Gili Islands in terms of weather and tourist crowds is during the dry season, which spans from April to October. During these months, you can expect sunny days, clear skies, and minimal rainfall, making it ideal for beach activities and water sports.
The peak season falls between July and August, coinciding with school holidays in many countries. During this time, the islands can be quite busy, and accommodation prices may be higher. Another peak period is around Christmas and New Year, when the islands experience a surge in visitors.
If you prefer a more tranquil experience with fewer crowds and more affordable accommodation options, consider visiting during the shoulder season, which falls in April, May, and October. During these months, the weather is generally favorable, and the islands are less busy, allowing you to enjoy the Gili Islands' natural beauty without the hustle and bustle of peak season.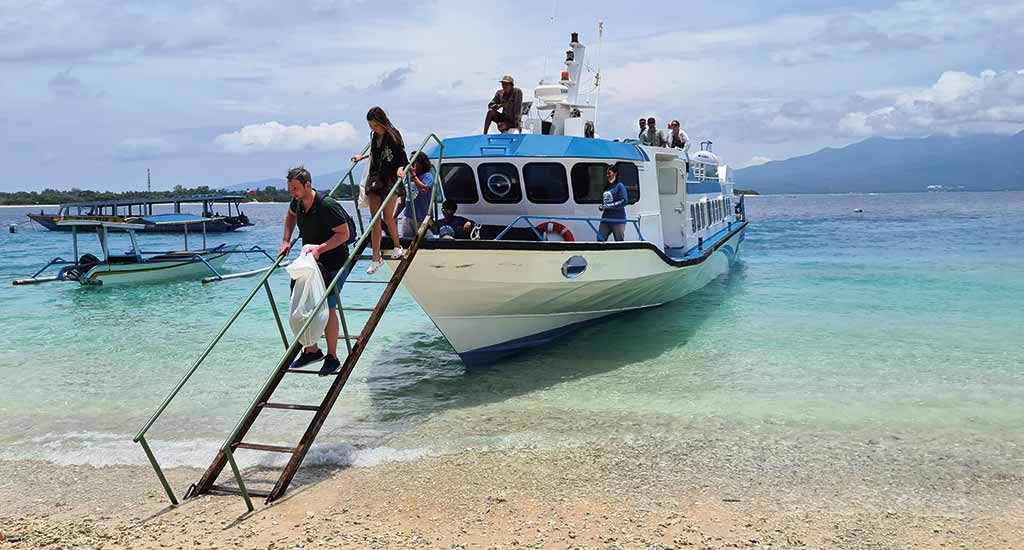 Getting to the Gili Islands
The Gili Islands are easily accessible from Bali or Lombok. From Bali, you can opt for a fast boat that departs from various points, such as Padangbai, Amed, or Serangan. The journey takes about 1.5 to 3 hours, depending on your departure location. Alternatively, you can fly to Lombok International Airport and then take a taxi to the Bangsal harbor, where public boats and private charters can whisk you away to the islands in roughly 30-45 minutes.
The cost varies but is very affordable and opting for round trip tickets make everything easier, you won't need to spend more than $20 – $30 for everything. In any case, it's remarkable how easy it is to get to such an exotics trio of islands from mainland(s).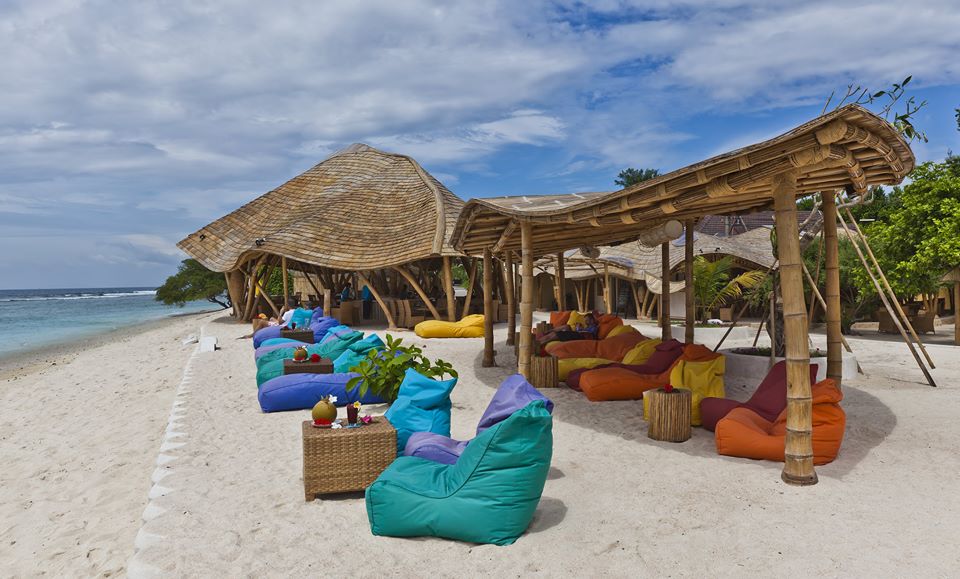 Gili Trawangan: The Vibrant Social Hub
Gili Trawangan, or simply Gili T, is the largest (but still tiny) and most developed of the three islands. It has earned a reputation as the "party island," thanks to its bustling nightlife scene, lively beach bars, and vibrant atmosphere. With a diverse range of accommodations, from budget-friendly hostels to luxurious villas, Gili T caters to all types of travelers.
Apart from its social scene, Gili T is also a popular destination for diving enthusiasts, with numerous dive centers offering PADI courses and guided dives. The island's crystal-clear waters and abundant marine life provide a spectacular underwater experience, teeming with turtles, sharks, and colorful coral reefs.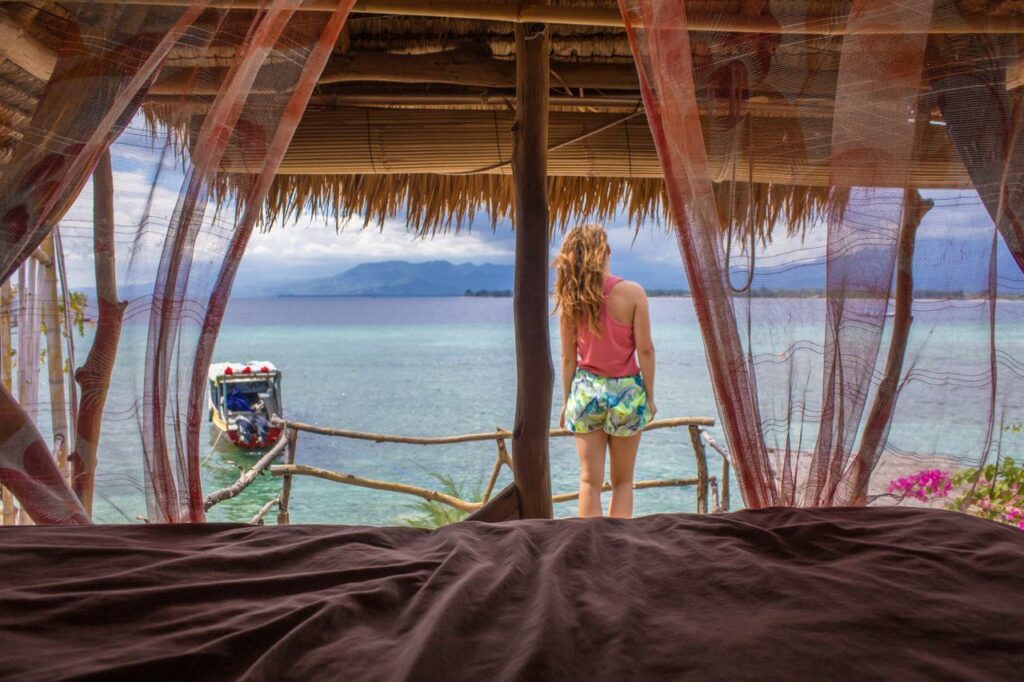 Gili Meno: The Serene Romantic Escape
If you're seeking a more tranquil getaway, Gili Meno is the perfect destination. Often referred to as the "honeymoon island," Gili Meno offers an intimate and peaceful atmosphere, with fewer accommodations and tourists compared to its neighbors.
The island's powdery white-sand beaches, turquoise waters, and swaying palm trees create a picture-perfect setting for relaxation and romance. Gili Meno is also home to a sea turtle sanctuary, where visitors can learn about these magnificent creatures and their conservation efforts.
While Gili Meno is not known for its nightlife, you can still enjoy a delicious meal at one of the beachfront restaurants or indulge in a soothing massage at a local spa.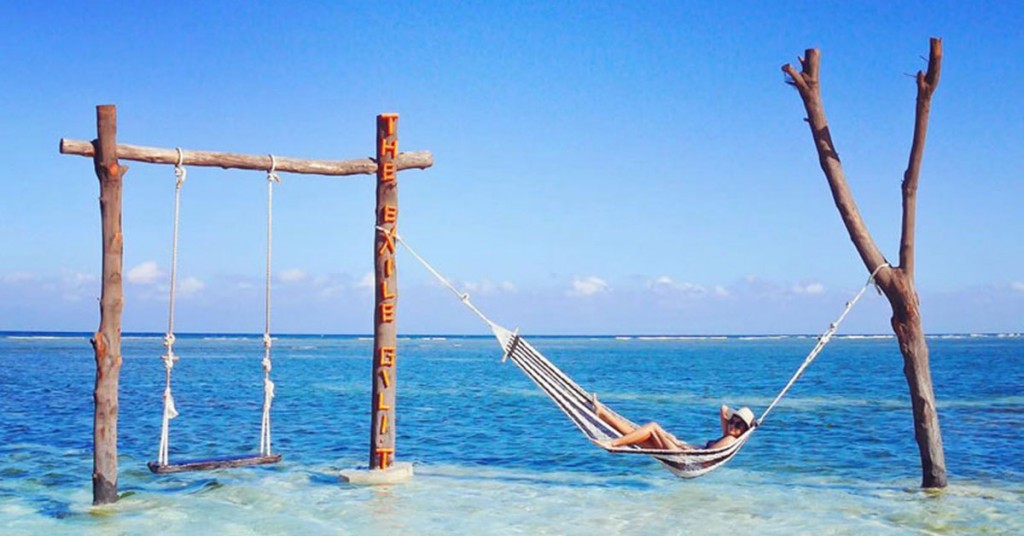 Gili Air: The Perfect Balance
Gili Air strikes a harmonious balance between Gili T's vibrant energy and Gili Meno's tranquil ambiance. This island offers a more laid-back atmosphere, with a variety of cozy cafes, beach bars, and boutique accommodations.
Gili Air is an excellent choice for travelers seeking a mix of relaxation and adventure. The island's pristine waters are perfect for snorkeling, diving, and swimming with turtles, while its sandy beaches provide ample space for sunbathing and yoga. As the sun sets, you can unwind with a cocktail at one of the charming beach bars, accompanied by the soothing sounds of live reggae music.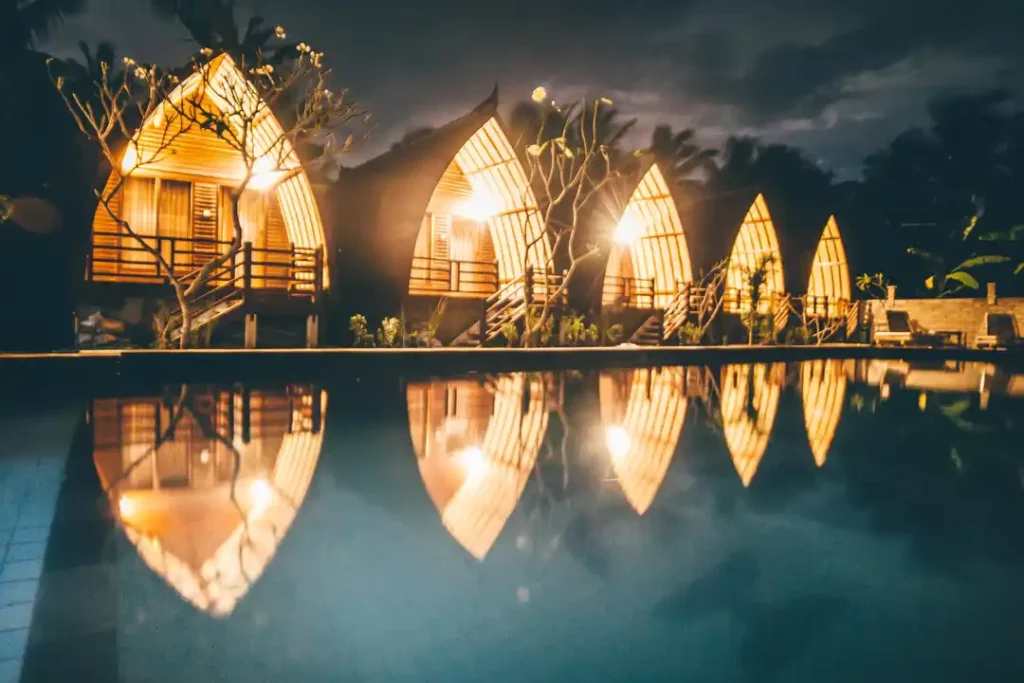 Gili Islands Travel Tips
Choose the right island for your preferences: Each Gili Island has its unique atmosphere. Gili Trawangan is known for its lively nightlife, Gili Meno for its romantic and tranquil setting, and Gili Air for its blend of relaxation and social scene. Consider your preferences when selecting the island to stay on or plan to visit all three for a complete experience.
Plan for transportation: Since cars and motorbikes are not allowed on the Gili Islands, the primary modes of transportation are bicycles, cidomo (horse-drawn carts), and walking. Rent a bicycle for easy exploration or embrace the slow pace and walk to your destinations.
Protect the environment: The Gili Islands are known for their pristine environment and marine life. Be a responsible traveler by avoiding single-use plastic, conserving water, and not touching or stepping on corals while snorkeling or diving.
Book snorkeling or diving trips: The islands are renowned for their vibrant marine life and underwater world. Take advantage of the numerous snorkeling and diving opportunities by booking trips with reputable dive centers or renting snorkeling gear to explore independently.
Be prepared for cash transactions: While some establishments accept credit cards, many still operate on a cash-only basis. Bring enough Indonesian Rupiah (IDR) with you, as ATMs can be scarce or may run out of cash.
Dress modestly: Although the Gili Islands are more relaxed than other parts of Indonesia, it's important to respect local customs and dress modestly when walking around the island or visiting local villages. Keep beachwear confined to the beach and wear more conservative clothing elsewhere.
Plan day trips to neighboring islands: Consider taking a day trip to Lombok or Bali, as fast boats operate daily between the islands, allowing you to explore more of Indonesia during your stay in the Gili Islands.
Respect local customs and culture: Although the Gili Islands are tourist-friendly, remember that you are a guest in the local community. Be respectful of local customs, traditions, and religious practices.
Stay hydrated and protected from the sun: The tropical climate can be intense, so be sure to drink plenty of water, wear sunscreen, and protect yourself from the sun with hats, sunglasses, and lightweight clothing.
Be aware of the low and high seasons: The high season for the Gili Islands typically falls between July and August and December to January, while the low season occurs during the rainy months from November to March. Choose the right time for your visit based on your preferences for weather, crowds, and pricing.
There is no law enforcement: Police do not exist on these islands but don't fret, crime is nearly nonexistent, aside from some petty theft and such.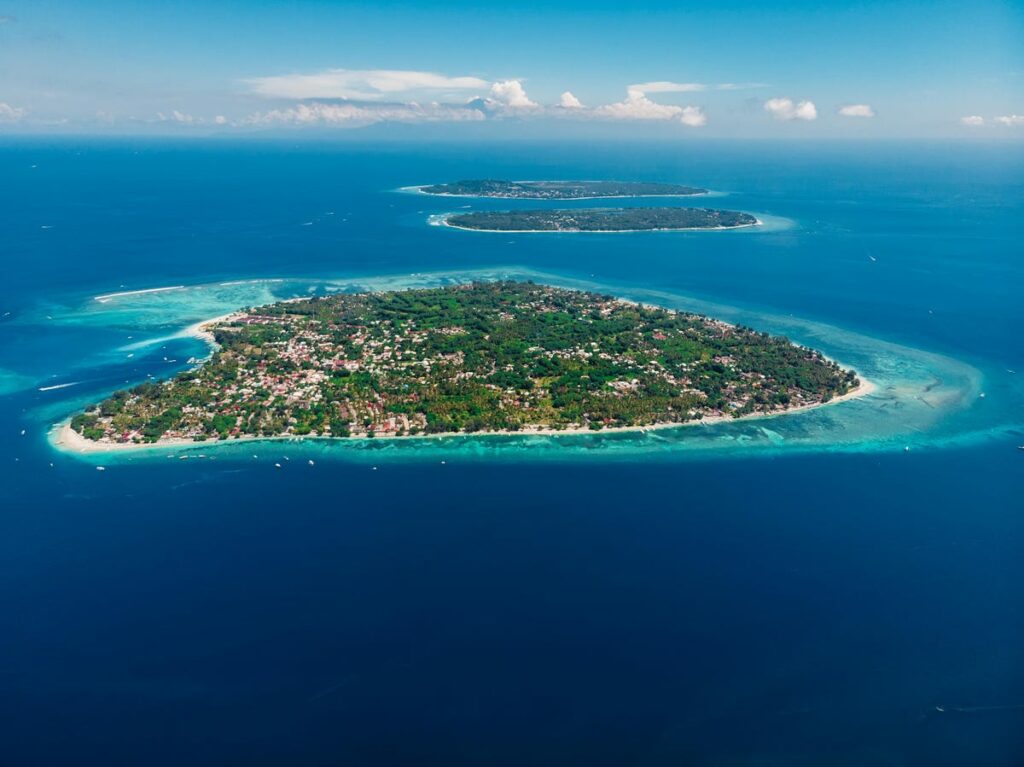 ---
The Gili Islands, with their unique blend of natural beauty, diverse activities, and distinct atmospheres, are truly a tropical paradise worth exploring. Whether you crave the social buzz of Gili Trawangan, the serene escape of Gili Meno, or the perfect balance offered by Gili Air, these enchant any type of island experience you may seek.
---